Yes, you can use a single directory tree for all 4 list views in Quad-Explorer Q-Dir, it doesn't matter whether is it Windows 11, 10, 8.1 Server 2016/2012 or other Win OS!


Content:



1.) Switching to a tree structure, for all 4 Explorer windows!
1. As always ►► start your Quad Explorer for MS Windows

2. Go to: 
"Main menu" > "Extras" > "Tree-View" > "One 4 all"

PS :
That's it for better folder management, the directory tree is an important reference point for many Microsoft Windows users when opening directories and navigating through the Windows directory structure, making it all the more important to use the correct directory tree!    

See also: 
► Disable the Windows Explorer file grouping in Q-Dir ► disable the click navigation sound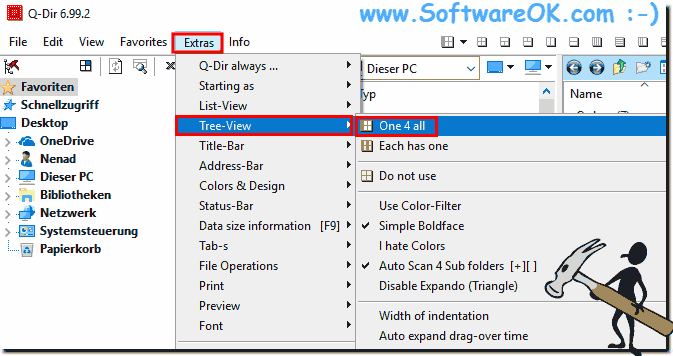 2.) Bold font in the directory structure!

Changing the directory structure to bold type 

If you do not want to use a color like in the list view, you can switch to "simple bold" to see the tree structure in simple bold font or the option "I hate colors" to disable both!



(Image-1) Bold Font in tree view!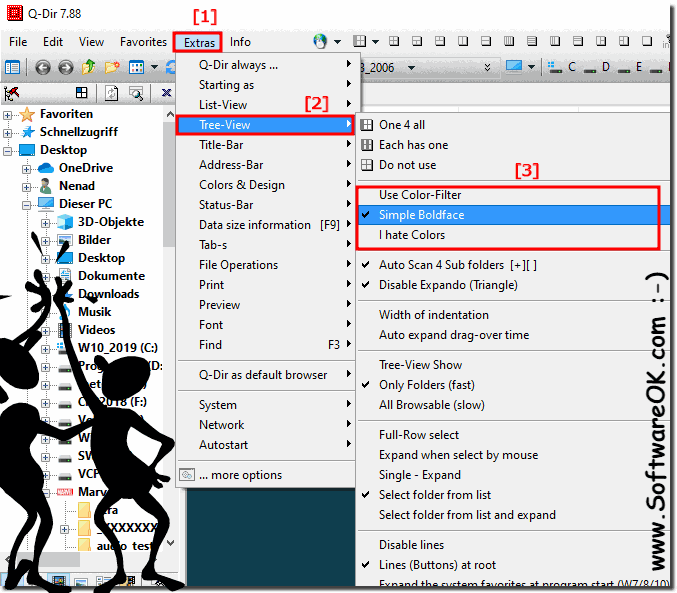 FAQ 26: Updated on: 13 July 2021 05:45