Please activate the Tree-Views for each explorer list view in Q-Dir, it doesn't matter whether is it Windows 10, 8.1 Server 2019, 2016 ... or other Win OS!
► Main-Menu ► Extras ►  Tree-View ► All have one


And

do not forget

, fore each windows (View) to activate it. see the screenshots 1 to 3 

Please always use .... the newest and latest version of File Explorer Q-Dir!  

Image 1





Little info about the directory structure:

Since the release of Windows 7, users can use folders as well as libraries to help them find files and folders no matter where they are. This will also be displayed in the Q-Dir directory tree.

The library is a virtual directory of files and links that are collected in one place. Files are grouped by type without having to move the file itself. All data entering the library undergoes indexing, which, depending on the file type, contributes to the contextual search, which also benefits the alternative file manager Q-Dir.


See also: ► Disable the Windows Explorer file grouping in Q-Dir!


Image - 2







Activate and deactivate as required in the individual Explorer windows!



Image-3


(Image-3) separate tree view for each explorer list view?



Tip: You can make additional helpful settings via the Extra directory structure menu. The e.g. In Windows 10 Explorer are not so possible!

Of course you can also configure many parameters for directories and their contents in Windows 10 like in any other Windows system. However, the folder settings in Windows 10 have a slightly more advanced view compared to other similar operating systems. And you can access the configuration in several ways.

In ► Q-Dir everything about ► Extra ► Directory structure ► ... (... see Image-4 Point 1,2, 3)



(Image-4) Settings for tree view for all explorer views!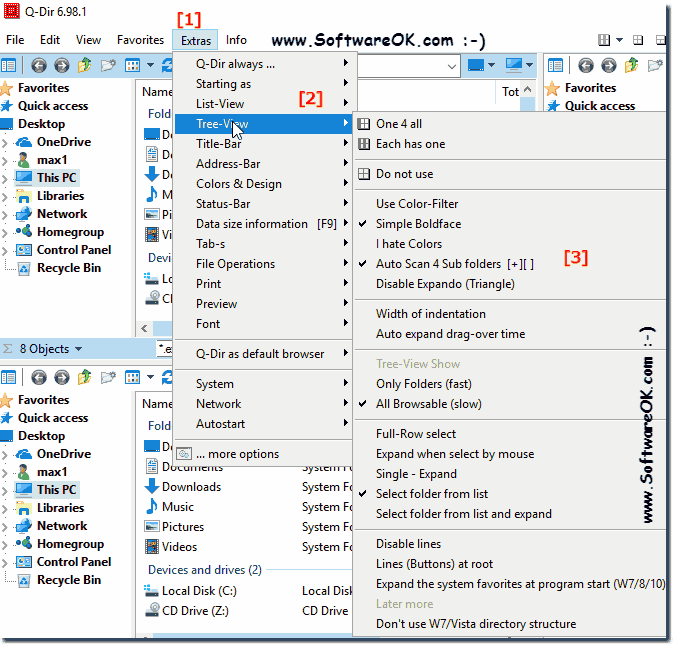 By optimizing or customizing the folder view in the Q-Dir Explorer, you can organize your workspace comfortably. And with the sorting option for a particular column, finding content on a particular basis is easy. And adjust how the folders are displayed to you, as well as the function white of the directory structure!

See also: ► How can I edit / copy very long directory names with the Vista address bar?






► Can I somehow disable the click navigation sound? 

► Start Copy Paste in new Process!

FAQ 32: Updated on: 21 October 2019 08:25