It's easy to uninstall the free memory tester or install it and get rid of it again!
1.) How do I uninstall QuickMemoryTestOK?
Uninstall function via ► Main menu ► Program ► Path ► Uninstall (QuickMemoryTestOK)
(... see Image-1 Point 1 to 3 

OR:
If QuickMemoryTestOK is running, please close the program QuickMemoryTestOK!
(... see Image-1 Point 4)

Please uninstall regularly via ► Windows Control Panel ► Program and features!

Please also read this: Installing installed programs in Windows 10, how can I uninstall them ?

Please always use ... the latest version of QuickMemoryTestOK

By default, the QuickMemoryTestOK.ini is created in the %APPDATA%/QuickMemoryTestOK folder.


For portable use, 
please create or copy into the QuickMemoryTestOK working directory of the QuickMemoryTestOK.ini.

Or do a "portable installation"  (portable_install)!



(Image-1) Uninstall the memory test from Windows 10, 8.1, ...!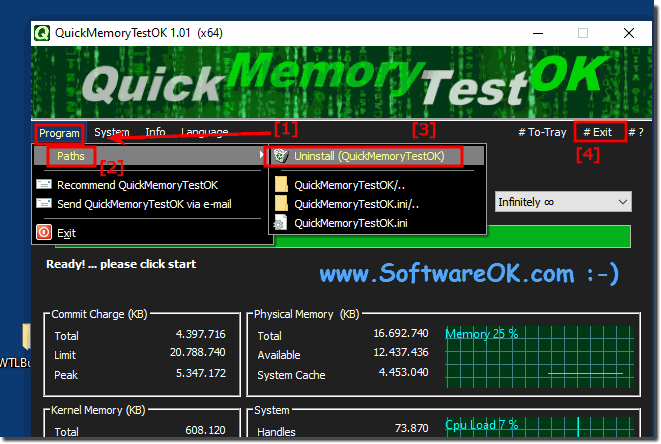 2.) Portable or not portable is the question?

You have the free choice whether you want to use the program as a portable memory test or as an installed test tool.
Optionally, you can also store it directly on the Windows desktop and also start directly from the desktop. 


(Image-2) Portable memory test for Windows 10, 8.1 ... and Server!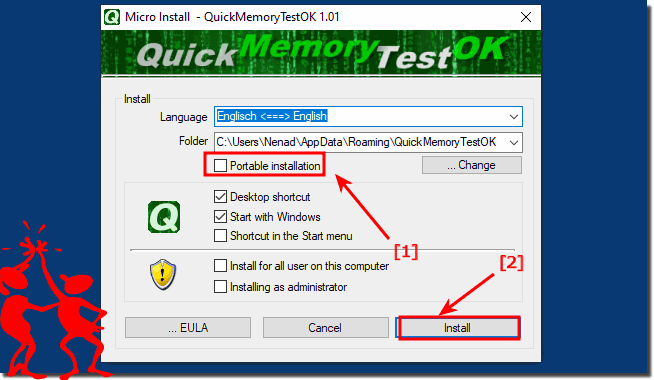 3.) Still problems with the Memory Tester Tools?
Still problems with "Memory Test Tool"?
What can I do if I still have problems with "Memory Tester Tools" is a frequently asked question. Restart the Windows operating system, please
perform a correct Windows restart
here
.
Then uninstall the "Memory Test Tool". 


If necessary, simply reinstall the program over the existing installation and repeat the instruction point 1: ►► 
How do I uninstall QuickMemoryTestOK?
(Image-3) Short info about the memory manufacturer, serial number and model!


FAQ 2: Updated on: 19 November 2022 17:17