The solution in QuickTextPaste is simple to paste Images (GIF, PNG, JPG, ...) from path to a active (foreground) program on Windows 11, 10, ... via clipboard!




 

Content:





To insert images with a command, use the

img:

command 

 and the path of the image.

The program enables you to insert the images into various applications using keyboard shortcuts!





1.) Send pictures via file paths to a program via the clipboard! 
To add a command to paste images use the command img: and the path of the image. 


As an example: 

For Example paste a signature (png image) to WordPad in Windows with the Keyboard-shortcut [Windows+S]
(... see Image-1 Arrow-1)



img:C:\Signature\800px-Jon_Kirsch's_Signature.png

 (... see Image-1 Arrow-2)

Add this command in QuickTextPaste (at Ver. 2.81)  (... see Image-1 Arrow-3)

And now test it, for example run WordPad and use Keyboard-shortcut [Windows+S] , and now you will see the signature in WordPad. that is it ;-) (... see Image-1 Arrow-4)

Please use  

►

 ... always the latest version of QuickTextPaste



(Image-1) Paste images via image path to an active program via windows clipboard!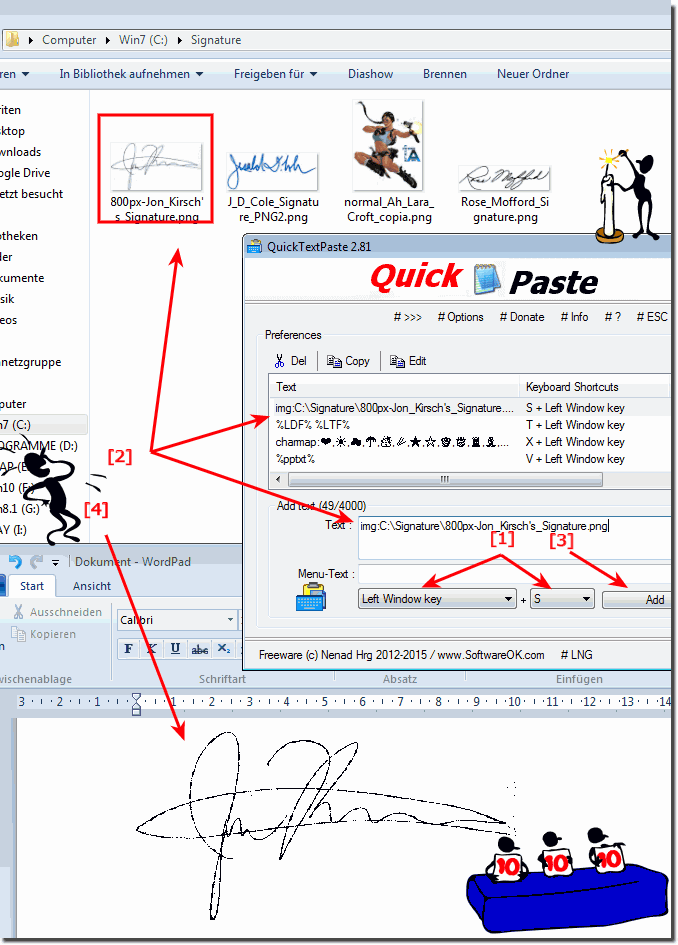 2.) What should I watch out for when I send pictures via the clipboard?
Not only can you send images to a program with QTP via file paths, automation can speed up work processes. If you regularly enter words, phrases, or other text, you may have thought of automating the process. This can be an email address you use regularly, a signature when commenting on web forums or blogs, or a Windows command. With QuickTextPaste , you can add all of this database to paste the information into any text field on the device or to execute commands that you have previously configured.

As you can see from the screenshot taken on Windows 11 and Win 10 above, however, you can still use this tool easily and easily on other and older versions of Microsoft's Windows operating systems, whether it is a Windows desktop, tablet, Surface Pro / Go, or even one MS Server operating system is.



3.) Tip to copy image file path in MS File Explorer on Windows 11, 10, ...!


In MS Explorer or in any other file explorer it is easy 

1. Mark image

2. Hold down shift key 

3. Right click on image

4. And just copy the image path

( ... see image-2 points 1 and 2 )



(Image-2) Copy image file path to the clipboard!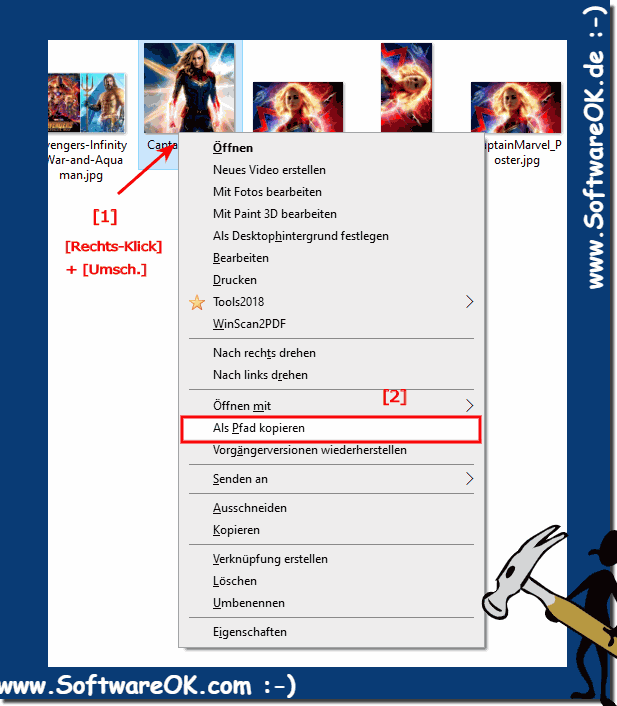 FAQ 10: Updated on: 13 July 2021 09:50