Editing the registry or its entries under Windows 11, 10, 8.1 Desktop and MS Server 2019, 2016!
Everyone probably knows the registry and how to
open RegEdit (Registry Editor)
, this makes it easy to edit the entries, you will be asked to agree to a user account control prompt before continuing.
This allows the registry editor to change the system settings, in short, the reg editor is always started in admin mode.


Contents:
1.) Just edit the registry entries in the registry!
1. In the left pane, navigate to the button you need to change. You will know where you need to be as the instructions for the registry hack you want to apply tell you.
2. To change a value,
double-click
it in the right pane and enter the new value.
3. Sometimes you want to create a new value, right-click in the right pane, select the type of value you want to create and enter the value!
(Image-1) How to edit registry on Windows 10!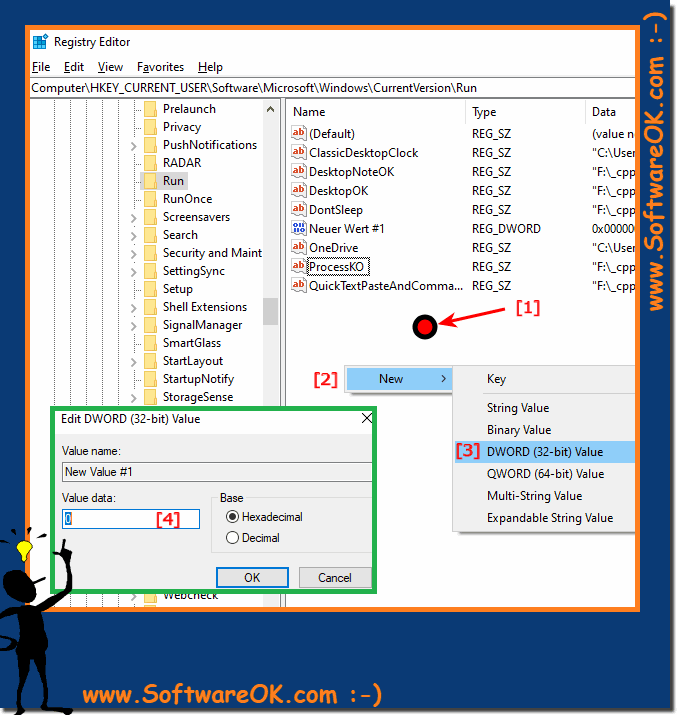 2.) You can also edit the registry entries in a text editor on Windows 10, 11, ...!
You can also edit the registry by exporting .reg files that should contain a change that will be applied when executed.
You should only
download and run
.reg files from trusted sources.
However, there are text files, so you click with the right mouse button to the editor can open is highly recommended Windows 10 Notepad . 



(Image-3) How to edit registry on Windows 10!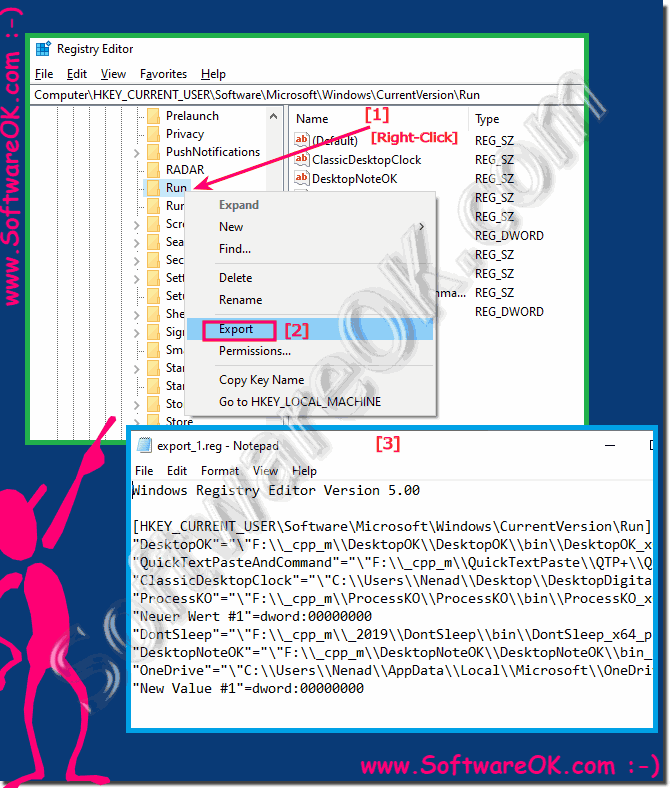 3.) Further tips and what should be taken into account when editing the registration!
Care should be taken when editing the registry in Windows, as changes to the registry can damage or render the operating system unusable. Before making any changes, you should make sure you know what you are doing and it is best to back up the registry. Here is a basic guide to editing the registry in Windows:
Note: Only modify the registry if you know exactly what you are doing and if you are following instructions from a trusted source. Incorrect registry changes can damage your system.
In some cases, you may need to restart your computer for the changes to take effect.
Important NOTE:
Security: Only edit the registry if you know what you are doing. Accidental changes can render your system unusable. Backup: Always back up the registry before making any changes.
System Restore:
If you are unsure, you can use System Restore to restore your system to a previous state.
Registry Hacks:
There are many registry hacks online that can be used to customize various aspects of Windows. Use these with extreme caution and only if you fully understand what they do.
Administrator privileges: Note that you need administrator privileges to edit the registry.
Please be extremely careful when editing the Windows Registry. Incorrect changes can cause serious problems that may require you to reinstall Windows.