Please don't use on Windows Programs(x86) or Programs! 


Please use for example %appdata% folder for QuickTextPaste because the Programs(x64) is write protected by Windows on Windows 11, 10, 8.1, 7!



For example Windows+E Keyboard shortcut and enter in the address bar %appdata% and create QuickTextPaste Folder!


Tip:
Portable application I personally store under D:\Portable if I re-install the windows again and again all on D: Apps Programs is ready for use ;-) mainly because I have per PC mostly 4-8 operating systems!

Important ► Please use always ► ... the latest version of QuickTextPaste for Windows!  



(Image-1) QuickTextPaste in Programs(x86) or Programs?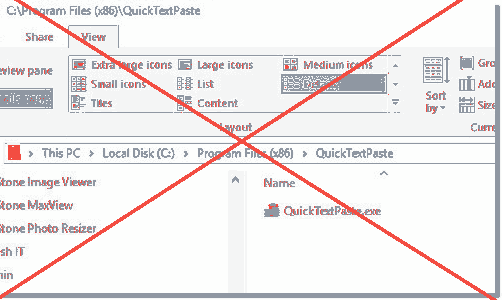 FAQ 24: Updated on: 13 July 2021 09:45