Saving or transferring preferred registration keys or favorites to another MS Windows Desktop PC or MS Windows Server is very popular!
1.) Saving the registry keys Favorites on Windows!
1. As always, start the registry editor with Windows + R and the regedit command

2. Open the registry folder: 
HKEY_CURRENT_USER\Software\Microsoft\Windows\CurrentVersion\Applets\Regedit\Favorites

3. Right click on the entire folder and simply export 

( ... see Image-1 Point 1 to 3 ) 



(Image-1) Save and load the registry keys Favorites on Windows!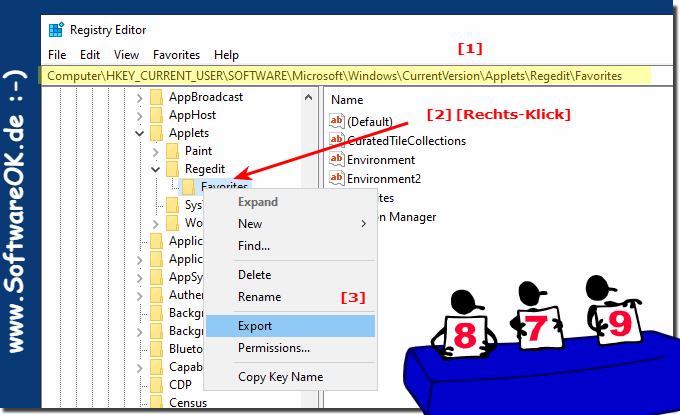 Each of your favorites is stored as a character value within the favorites reg key. To secure them, you just have to export this key. Right click on the favorites button and select export, which is also easy as you can see in the image.



2.) Restore Registry Favorites on all MS Windows OS!

1. On the new PC, open the storage location with the registry favorites

2. Initiate the import with a double-click

3. Confirm the import of the favorites

4. Check whether the favorites have been imported 

( ... see Image-2 Points 1 to 3 )




(Image-2) Export and import of registry favorites on MS Windows OS!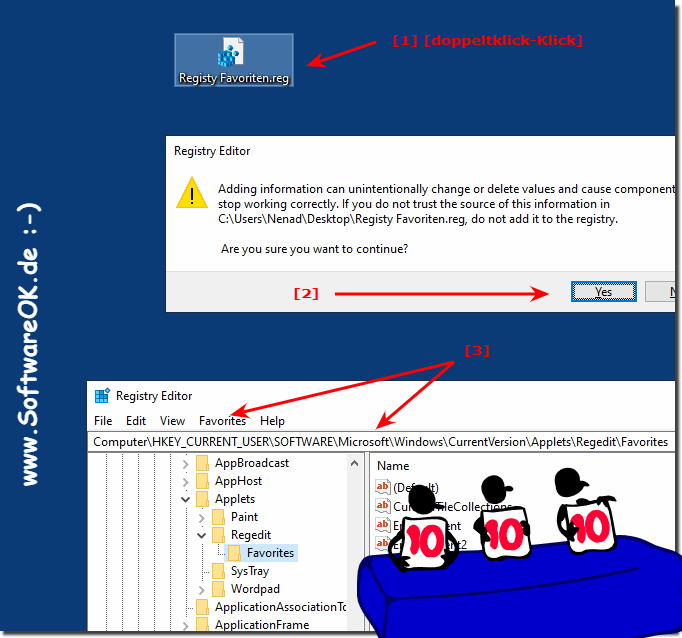 After saving the REG file to any save location, you can also restore these favorites in no time, just double click on the REG file and the favorites will be imported into the registry on the new MS Windows PC. When you import the file, the favorites will be added to the favorites list in the registry editor!




3.) Why save and restore the Windows registry favorites?

If you use the Windows registry frequently, you have probably created some favorites folders in the registry, the preferred storage locations are used as in Internet Explorer, also known as bookmarks. The registry editor also stores these so-called favorites in the registry, so you can easily back them up or transfer them to another MS Windows PC.

This means that you do not have to create your preferred Windows registry favorites again, but can continue to use them conveniently on any MS Windows PC.



FAQ 5: Updated on: 7 June 2022 07:56