The solution is simple to create Shortcut to Restart Windows 8.1 / 10!




But the fastest way is via Keyboard Shortcut [Windows+X] [UP][UP] [RIGHT] [R]

(

... see Image-1 Arrow-1

)

or:

press

Ctrl+Alt+Delete

, tap or click the Power icon

Power icon

, and then click

Restart

.



See also:
... create a Windows 8 or 8.1 desktop shortcut for fast shutdown, log off, restart!
... prevent system shutdown, Standby, Hibernate, Turn Off and Restart on Windows-8/8.1
... the Windows-8 the 'Shut Down Windows' Dialog Box!
... clear virtual memory pagefile at Windows 8.1 Shutdown!
... Auto Shutdown the Windows-8 and 8.1!
... Shutdown, Log-Off, Restart in windows 8.1 tray area!




(Image-1) Keyboard Shortcut to Restart Windows 8.1!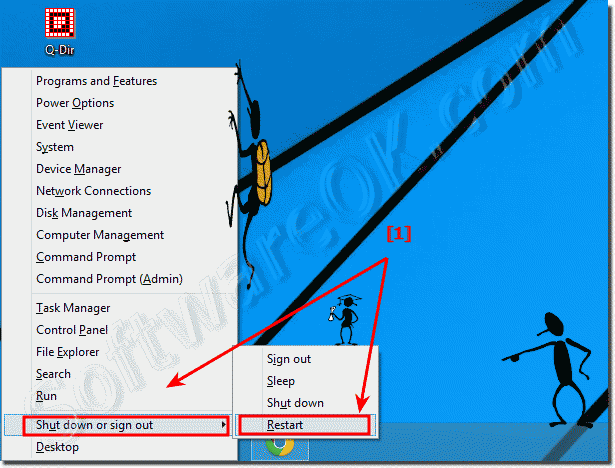 The Windows 8.1 and Windows RT 8.1 use power efficiently, so you won't need to shut down your PC unless you're going on vacation or will be away from your PC for a while.

However, you'll occasionally have to restart your PC after you've installed a new app or to finish installing updates. Here's how to do it.

FAQ 175: Updated on: 21 July 2019 07:35