The solution is very simple to connect computers via USB, to implement a network that works like the LAN on TCP / IP, not! 


Contents:




1.) Connect computer via USB!
A so-called USB link cable can be used to transfer data between two PCs , these cost between 12 and 30 euros.

If you need it a little faster,

for faster data transfer

, you should use a USB 3.0 link cable , but that only works if both computers have a USB-3 connection.

But you can also buy a USB to RJ45 adapter for a tablet or notebook that does not have a network card . So you can establish a regular network connection without having to work over the slow WiFi.

See also:  Slow data transfer in the home network on a notebook, laptop, or PC  & USB 3.0 on old notebooks



(Image-1) Connect computer via USB without a network!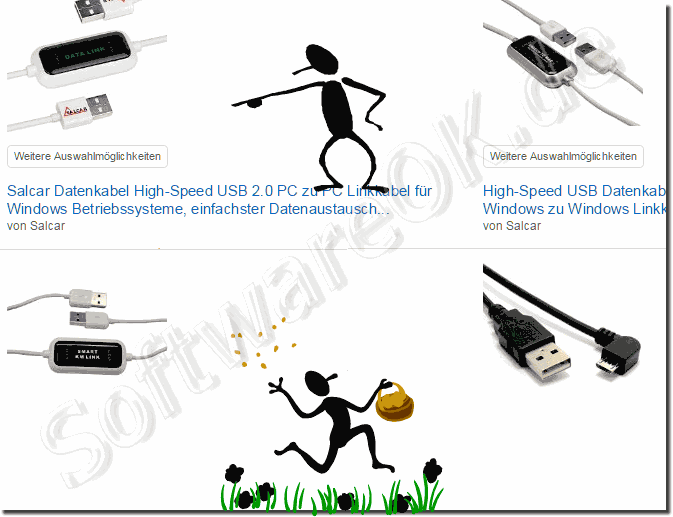 Data synchronization via the USB port on the PCs and data transfer between different operating systems!
2.) Does it make sense to connect the computers via USB?

There are some disadvantages to using USB connections between computers. For example, they may not be able to compete with wireless or wired network connections in terms of speed and convenience. You also need special cables or adapters to create a USB connection between computers.




Connecting computers via USB can be useful in certain situations, but depends on your specific needs and goals. Here are some scenarios where connecting computers via USB might make sense:




File Transfer:
USB cables enable fast and reliable file transfers between two computers. This can be useful when you need to share large files between devices, especially when using a network is not practical.

Internet Sharing:
In some cases, you can use a USB cable to share the Internet connection from one computer to another. This is useful when one computer has an Ethernet connection and the other does not have its own Internet access.

Software updates:
A USB cable can be used to transfer software updates or files from one computer to another without having to download them over the Internet. This can be useful to ensure you get the latest updates on an offline computer.

Data recovery:
If a computer stops working properly, you can try transferring data from that computer to another using a USB cable to back it up.

Printing:
You can connect a printer directly to a computer via USB when a wireless or network connection is not available.





In most cases, it probably makes more sense to connect computers via Wi-Fi, Ethernet, or other wireless or wired network connections, as these are typically quicker and easier to set up. However, USB ports are a viable option in certain emergency situations or exclusive use cases.







FAQ 45: Updated on: 30 October 2023 20:29