In Windows 10 you can disable frequently used folders in the 
quick access

 of MS Explorer, the solution in Windows 10 is very simple!




For example, start the MS-Explorer with the key combination Windows Logo + E and select the menu item View. In the Explorer Settings view, please open the folder options and the General tab. 




Uncheck the checkboxes: (... see Image-1 Point 1 to 6)

[ ] Show frequently used folders in Quick access
[ ] Show recently used files in Quick access

(... see Image-1 Arrow 1 to 6)

See also: ►  remove the OneDrive folder from File Explorer ► Where is Send To folder in windows 10



(Image-1) Show frequent folders in MS-Explorer (Windows 10 quick access)!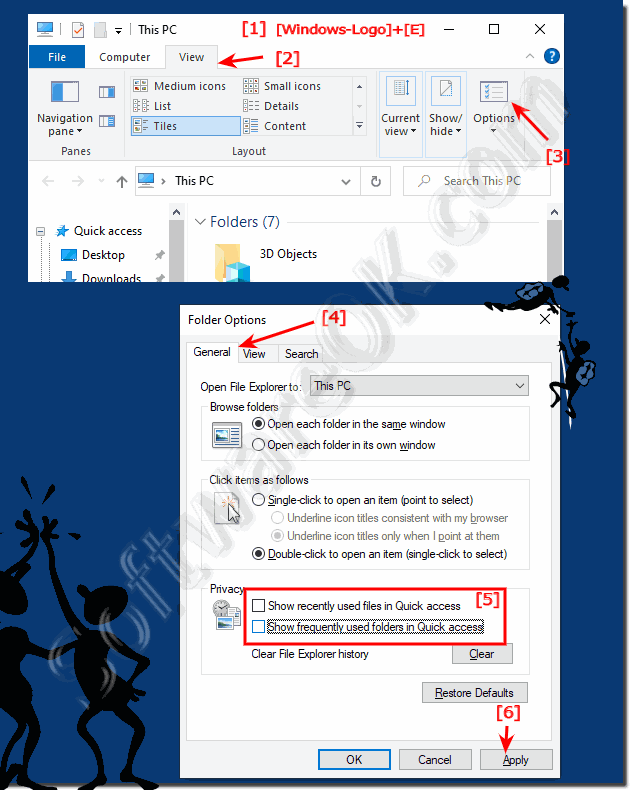 While browsing folders in the Windows-10 Computer folder, you can apply the current view setting to all folders on your computer that are optimized for the same content as the folder you have open. For instance, the My Pictures folder is optimized for picture files. If you open this folder and change the view to Large Icons, you can apply the Large Icons view to every folder that's optimized for pictures in Windows-10.

TIP:


To change the type of file that a folder is optimized for, right-click the folder, click Properties, click the Customize tab, click a file type in the Optimize this folder for list, and then click OK.

 



FAQ 34: Updated on: 11 December 2019 07:41