Many have the buttons "C" and "CE" on real computers and on Windows computers, what the abbreviations mean and what exactly the difference is!


Contents:



1.) Short and understandable about the functions 'C', 'AC' and 'CE'!

As a rule, you can delete an entry, or rather cancel it, with both buttons. The [C] key deletes all entries that have been entered into the calculator. The [CE] key deletes the last entry. So if you make a mistake on a long calculation, you don't have to start over, but Apple's MAC and Google's Android do the same.

Sometimes there is also AC in the place of C, comes from the English "All Cancel"


AC and C


All entries made before pressing the AC button or C button are canceled. With some cheap versions of standard pocket calculators, this will most likely delete all previous entries.



 
CE = Cancel Entry, or cancel entry 


This will delete your last entry, if you made a mistake with the last number, or if you press the wrong key to divide, add, subtract, ..., the last, previous entry will be ignored / canceled or deleted.




(Image-1) C and CE on the Windows 7 computer!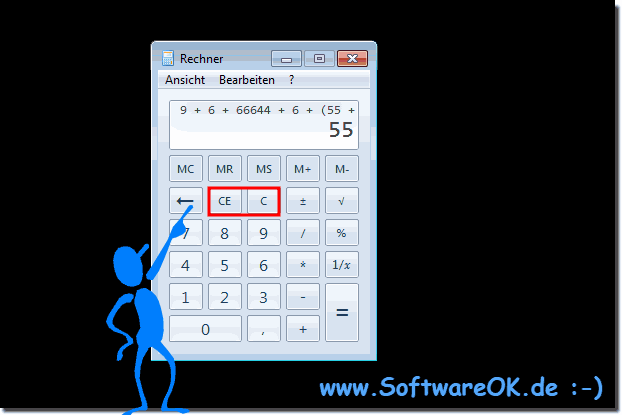 (Image-2) C and CE key on Windows 10 computer without AC!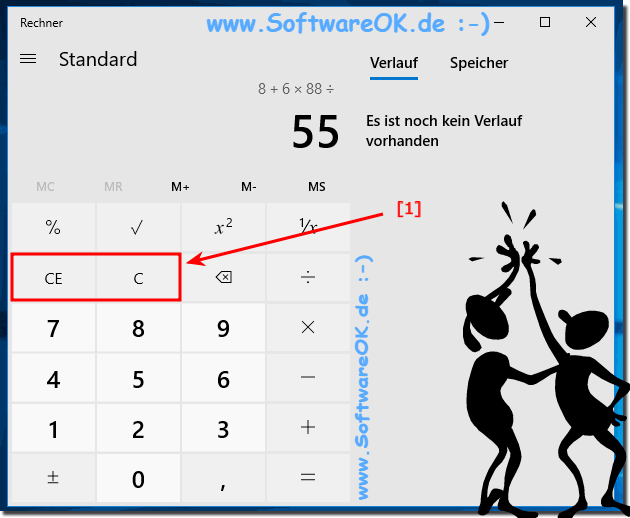 Info:

The explanation of the buttons "C" and "CE" on real computers, as well as Windows computers, is not only written for Windows 7 and 10, even if these buttons "C" and "CE" screenshot taken under Windows 10 and 7 have been. The "C" and "CE" buttons are also on earlier versions of MS Windows operating systems, regardless of whether it is a Windows desktop, tablet, Surface Pro / Go, or even a server operating system.


2.) Detailed and technical information about the functions 'C', 'AC' and 'CE'!

On the calculator, the "C", "AC" and "CE" keys are usually located in the upper right corner. They are used to delete entries.

C (Clear): The "C" key stands for "Clear" or "Delete". Pressing this button normally clears the current value on the screen without changing the previous memory or general calculation settings.

AC (All Clear): The "AC" button stands for "All Clear" or "Delete All". Normally, pressing this button will clear all current values ​​on the screen and reset all calculation settings to their default state. This usually means that the memory is also cleared.

CE (Clear Entry): The "CE" key stands for "Clear Entry" or "Delete Entry". Pressing this key typically clears only the last entered number or operator from the screen without changing the entire screen or calculation settings. This is useful when you want to correct an error in your input without restarting the entire calculation process.


Example:



If you enter "2 + 3" into the calculator and then press the "CE" key, the last entry, i.e. "3", will be deleted. The entry "2" remains.

If you press the "C" key, the entire input will be deleted, i.e. "2 + 3".

When you press the "AC" button, all entries are erased, including the memory contents.

Info:

The "C" button is usually red, the "AC" button is usually green, and the "CE" button is usually blue. The "C", "AC" and "CE" keys can also be used in other calculator programs, e.g. B. in calculators or in online calculators.

Difference between C and CE

The main difference between the "C" and "CE" keys is that the "C" key deletes all entries in the calculator, while the "CE" key only deletes the last entry.

If you perform a calculation and then miscalculate, you can press the "CE" key to clear the last entry and restart the calculation. If you want to start a new calculation, you can press the "C" key to clear all entries.

Difference between C and AC

The main difference between the "C" and "AC" keys is that the "AC" key also clears the calculator's memory contents.




The "C", "AC" and "CE" keys are important tools for deleting entries in the calculator. They can be used to correct errors, start new calculations, or clear the calculator's memory contents.

The exact functionality of these keys may vary depending on the model of your calculator or calculator. It is important to consult your device's user manual to ensure you understand the features and use them correctly.   







FAQ 68: Updated on: 16 October 2023 07:29