Here is a weekly schedule for mentally disabled and autistic children as a PDF and XLS-Excel file!




Info:

Visual assistance is very personal, and what works for one person may not work for another. Use the person's special interest; B. a visual schedule in the form of a washing machine could be created.




Content:




1.) Download the weekly plan! 
The weekly schedule is in Excel xls and can also be easily adapted with Open Office, or decorated with Windows cliparts.

Download: ... weekly schedule_Luka.zip




(Image-1) Weekly schedule for mentally handicapped and autistic children!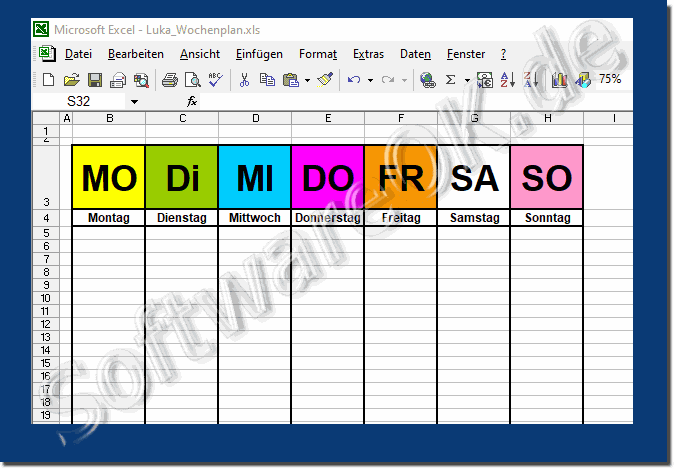 2.) Why do you need this weekly plan?
Visual schedules can be used in a variety of ways and in a variety of settings. It can be used as a visual template for everyday life, or to teach new skills by breaking down an activity into simple steps. Visual schedules are useful for increasing independence for a person through targeted activities. Visual schedules can be used extensively: 

 

• Improving functional life, skills such as cleaning and cooking

• Academically teaching, playing, and social skills

• Increasing distribution of tasks

• Decreasing tantrums and other disruptive behavior

• Facilitation of transitions




Find out about the different types and uses of visual aids and where to find resources.



3.) Tips for creating an effective schedule / weekly schedule!

• Identify the skill or routine that you want to target.

• Break the activity down into simple steps that the user can easily understand and perform.

• Determine the length of the schedule. While some individuals can use it over a longer schedule spanning an entire day, other users can benefit from schedules with fewer steps. Pick a length that you think will be suitable for your child and adjust them as needed.

• Choose an appropriate visual format for the schedule. Research has found schedules in which photos, videos, or a combination that includes any of these elements are more effective than schedules that use line drawings or text alone.

• Consider using pictures of you to personalize the schedule once the child / adult has successfully completed the steps of each activity. As a visualized completion / reward.

• Teach your child how to keep the schedule. Many individuals require physical or verbal guidance to follow the instructions. In particular, activities when first introduced into the schedule should be properly planned. 
• Add a way for the child / person in need of orientation to indicate when steps have been taken and completed, eg filling in a check box, or moving moving images from the "to be done" side of the schedule to the "done" side of the timetable.


• If a child has difficulty mastering a particular step, plan to further simplify the step by breaking it down into smaller sub-steps.


• Provide your child with reassurance when something has been completed. This could be through praise, a reward, or time to do a preferred activity, or anything else
Motivating!
4.) More information about autism! 
Visual assistance can be used to communicate with people on the autism spectrum. They are adaptable, portable, and can be used in most situations. Visual support can help provide structure and routine, promote independence, build trust, improve understanding, avoid frustration and anxiety, and provide opportunities to interact with others. You can make communication physical and consistent, rather than fleeting and inconsistent like spoken words.

FAQ 78: Updated on: 1 December 2020 12:02