For non-duplex scanners you have problems with front / back sorting to get the right order in the PDF for the printout!


Content:




Advance! The problem description does not cover duplex scanners. Full Duplex scanners sort anyway automatically! Advance! If you own a multifunctional duplex printer it is not at the same time a duplex scanner!  
1.) The duplex problem with non-duplex scanners!
You scan the stack twice: 1.) once front, 2.) once back:
Of course you want to have them in a stored document in the right order.

For non-duplex scanners, the PDF page order would be for example 1,3,5,7,8,6,4,2

From version 3.88 you can simply use this function in WinScan2PDF
Right Click on List View ► Duplex ► Use sorting for non-duplex scanner. 

Then the pages are sorted correctly the page order: 1, 3, 5, 7, 8, 6, 4, 2 then becomes 1, 2, 3, 4, 5, 6, 7, 8



Info: If this does not mean anything to you, do not worry, then you do not need this feature. Just ignore it :-).



See also: ► How to uninstall WinScan2PDF?



(Image-1) sorting non duplex PDF scanning and printing!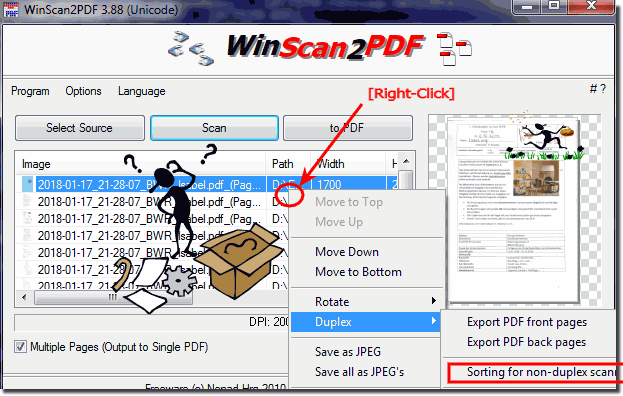 2.) The duplex problem with non-duplex printers!
It is very handy if you have a non-duplex printer. Then from WinScan2PDF 3.88 you can easily save the front pages as a PDF and save the back pages as a separate PDF file.

Now you can conveniently print the front pages PDF and then open the paper tray on your LASER-JET and reload the pages and print on the back side. (... see picture-2)

Thus, it is environmentally friendly and they unconsciously counteract climate change and, incidentally, save 1 Cent per page ;-)





(Image-2) PDF printing non duplex Printer!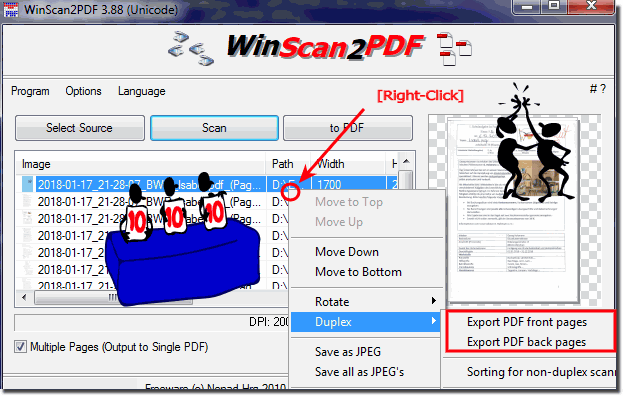 3.) Auto rotate eevery second page, before create a PDF!
From Version 4.63, the back side can be automatically rotated correctly before the PDF is created! 
(
... see Image-3 Point 1 to 3
)
Is good for older Duplex-Scanner! 
(Image-3) Flip ergo Rotate back pages for duplex PDF scanning!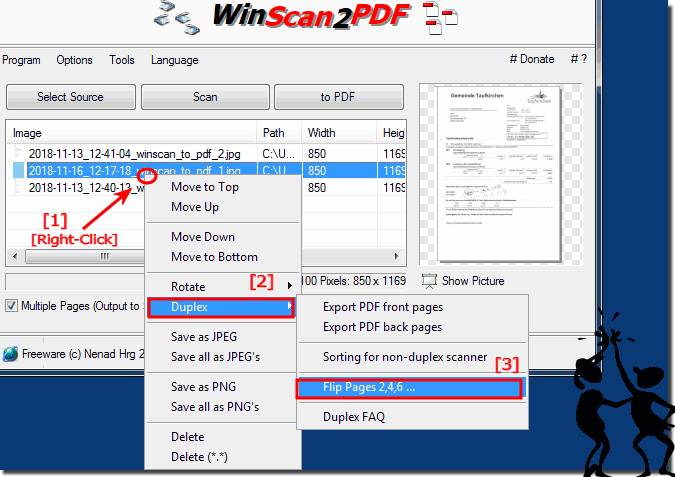 Unfortunately, with older Duplex-Scan over the feeder the back is always rotated by 180 °. So if, for example, 10 pages scan by feeder, the pages 2,4,6,8 etc. are rotated by 180 ° and I do not have to manually rotate these pages.
FAQ 15: Updated on: 20 May 2020 21:43