For
non-duplex scanners you have problems with front / back sorting

to get the right order in the PDF for the printout!


Content:




Advance! The problem description does not cover duplex scanners. Full Duplex scanners sort anyway automatically! Advance! If you own a multifunctional duplex printer it is not at the same time a duplex scanner!  
1.) The duplex problem with non-duplex scanners!

You scan the stack twice: 1.) once front, 2.) once back:
Of course you want to have them in a stored document in the right order.

For non-duplex scanners, the PDF page order would be for example 1,3,5,7,8,6,4,2

From version 3.88 you can simply use this function in WinScan2PDF
Right Click on List View ► Duplex ► Use sorting for non-duplex scanner. 

Then the pages are sorted correctly the page order: 1, 3, 5, 7, 8, 6, 4, 2 then becomes 1, 2, 3, 4, 5, 6, 7, 8



Info: If this does not mean anything to you, do not worry, then you do not need this feature. Just ignore it :-).



See also: ► How to uninstall WinScan2PDF?



(Image-1) sorting non duplex PDF scanning and printing!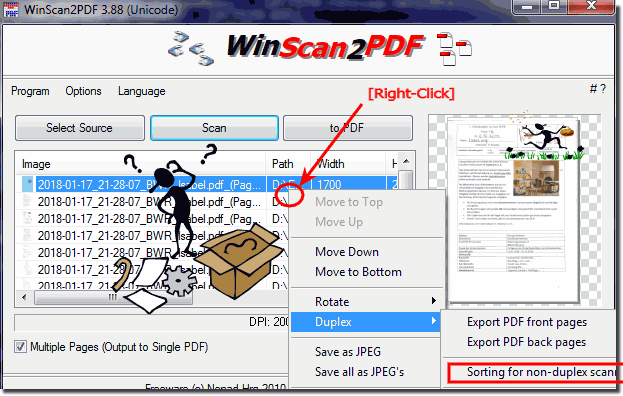 If you've bought a new scanner and connected it to Windows 10, you won't experience any problems with the device after installing the latest drivers. However, if you have an old scanner and you don't see Windows 10 when connecting to a PC, here's how to configure it. 

Especially with Windows 10, if your scanner is older than 3 years and the data carrier with the installation software does not correspond to the operating system version, you should go to the website of the official device manufacturer and download new drivers. 
Here are instructions: ►  Problem with driver for the scanner under Windows 10!




2.) The duplex problem with non-duplex printers!
It is very handy if you have a non-duplex printer. Then from WinScan2PDF 3.88 you can easily save the front pages as a PDF and save the back pages as a separate PDF file.

Now you can conveniently print the front pages PDF and then open the paper tray on your LASER-JET and reload the pages and print on the back side. (... see picture-2)

Thus, it is environmentally friendly and they unconsciously counteract climate change and, incidentally, save 1 Cent per page ;-)





(Image-2) PDF printing non duplex Printer!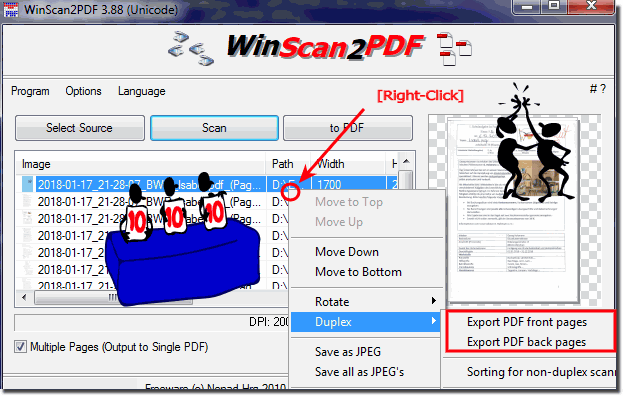 3.) Auto rotate eevery second page, before create a PDF!
From Version 4.63, the back side can be automatically rotated correctly before the PDF is created! 
(
... see Image-3 Point 1 to 3
)
Is good for older Duplex-Scanner! 
(Image-3) Flip ergo Rotate back pages for duplex PDF scanning!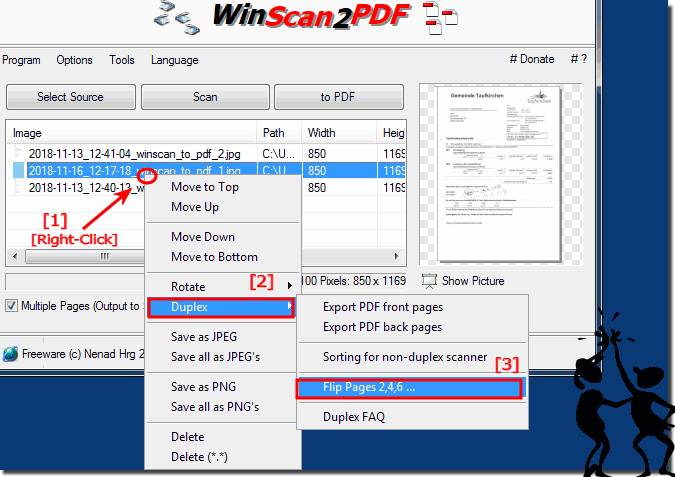 Unfortunately, with older Duplex-Scan over the feeder the back is always rotated by 180 °. So if, for example, 10 pages scan by feeder, the pages 2,4,6,8 etc. are rotated by 180 ° and I do not have to manually rotate these pages.




5.) ... The story about this duplex function in WinScan2PDF!
---
Question:
---
Hello, I have a request or suggestion for the WinScan2PDF program. It seems good, as do all of your programs. I am currently using QDir and I am very satisfied. Now I have come across WinScan2PDF - but have not yet tested because I am missing something essential. Namely the ability to do "duplex" on non-duplex scanners.
THAT would be a real test solution for many people. So scan sheets, turn around, scan again - and the program sorts ..... Then you could part with programs like Paperport, which are too buggy anyway. Since sorting is already included in the SW, this change would probably not be a major challenge for you.
Many greetings and thanks for the great job you are doing!
---
Answer:
---
So,
do I understand correctly
WinScan2PDF should
page 1,3,5,7, ..... Print
then 2,4,6,8, ..... Print
Greetings Nenad
---
Question:
---
yes, just don't print, save.
If you scan the stack, you have scanned pages 1, 3, 5, ... 13 (7 sheets in the document as an example).
If you turn the stack over and scan again, you have scanned pages 14, 12, 10, ....., 2.
They then "only" have to be sorted appropriately ......
---
Answer:
---
That's right backwards. So
sort the original pages in WinScan2PDF . 1,2, 3 ..... 20
Then button:
[Duplex printing front side] 1, 3, 5, 7
[Duplex printing rear side] 8, 6, 4, 2
Then button:
Duplex PDF front side file> 1, 3, 5, 7
Duplex PDF back side File> 8, 6, 4, 2
I see everything right now
---
Question:
---
In the blink of an eye (I have to go) I don't understand what you mean by
"Duplex PDF front side file> 1, 3, 5, 7
Duplex PDF back side file> 8, 6, 4, 2"
.
So again my wish: I scan the stack twice: 1.) once on the front, 2.) once on the back:
Of course I want to have them in a saved document in the correct order.
If I understand you correctly, you also want a printer serve. which are not duplex capable.
That's a good idea, of course, if that's what that's meant. It didn't occur to me because my printers are duplex. But the scanners don't ...
(On occasion I would like to learn how to become such a programming crack and write programs that are so good and so compact. Nowadays every Windows program is at least 50 MB, and not 50 KB as yours.)
---
Answer:
---
I understand the printer doesn't do duplex!
With the scanner it would be
> Scan fronts
> Scan backs
And WinScan2PDF sorts the thing correctly.
But I will also include that with the printer.
> to: how to become such a programming crack and write programs
I have been programming since 1995 and try to make full use of the available functions in Windows.
I also don't understand why they are getting so big with the others,
possibly to make the software more difficult to copy (copy protection).
Greetings Nenad
Front pages, back pages, sorting, duplex PDF scanning and printing on Windows 11, 10 , 8.1, 8, 7: Pro, Home, Enterprise, Basic, Premium, Professional, Starter, Ultimate, Windows-Server 2019, 2016, 2012
FAQ 15: Updated on: 26 August 2023 17:56