The solution is simple,
to keep the aspect ratio

when scanning with WinScan2PDF !



 

Content:

1.) Switching to the correct image to page ratio!
Start WinScan2PDF and before starting the scan, enable the option Keep Aspect Ratio (... see Image-1 Arrow-1)

This option is available from version 2.77 in WinScan2PDF.

From Version 3.77:
(... see Image-1)  Fit to the Page
or 
use the source for the size of the PDF page! (... see Image-2)

Please use ... always the latest version of WinScan2PDF. 




(Image-1) Aspect ratio when scanning a PDF page!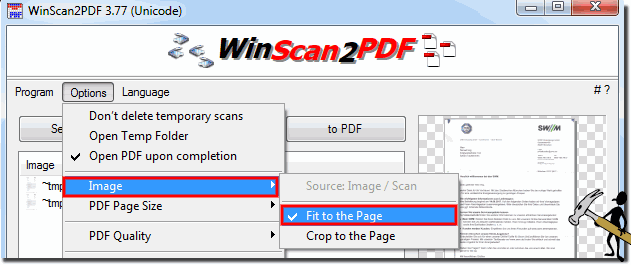 (Image-2) Unattractive aspect ratio when scanning!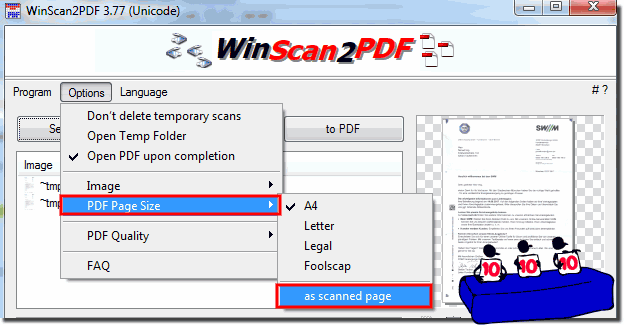 If you like reading,

scanning an old photo or an image from a magazine follows the same principles. You should scan the original at a resolution that gives you the desired number of dpi for whatever print format you want to create after scanning. Aspect ratio, also known as aspect ratio, is the ratio between the width and height of a photo. It essentially describes the shape of your image. The most commonly used aspect ratio is 16 to 9 numbers. And the width is always the first number, followed by the height. An image that is three times as wide as it is tall has an aspect ratio of 3:1. It is important to note that an image aspect ratio is not the actual size of the image in pixels or centimeters. For example, a square image that is 500 x 500 pixels has an aspect ratio of 1:1. An image that is 1500 x 1500 pixels has the same aspect ratio of 1:1. The images are different sizes but the same aspect ratio. Consider another example. Image (1) is 800 x 400 pixels. And image (2) is 1200 x 600 pixels. What is the aspect ratio for each is so easy to calculate, each image is a rectangle with an aspect ratio of 2:1 which is exactly the same 4:2 or 40 to 20 or 400 to 200 = 800 to 400, although width and height for Each image is different, the division result is the same.



2.) Is there anything to consider when it comes to aspect ratio and scanning!
An aspect ratio is the proportional relationship between the height and width of an image or document. If you start scanning images that have the same aspect ratio, you can better decide whether they should be cropped, for example to DIN A4.




Adjust aspect ratio when scanning for/on: Windows 11, 10 , 8.1, 8, 7: Pro, Home, Enterprise, Basic, Premium, Professional, Starter, Ultimate, Windows-Server 2019, 2016, 2012

FAQ 4: Updated on: 2 November 2023 10:28