A solution to Find Character Map on Windows 11 / 10 to start it over the run dialog you must not do an extra download from internet!



Content:


See also: ► QuickTextPaste ► how to change keyboard speed ►   The Virtual on-screen keyboard ergo osk

1.) Start the character map table in Windows 11/10! 

You can also directly open the file location in 

C:\Windows\System32\

and 

charmap.exe

 or for example run the command: charmap from Windows 10 Run Dialog (... see Image-1 Arrow-1)


Tip: 
With the character table you can display the characters. Depending on the font selection different special characters are available. Here you can copy individual characters or several characters to the clipboard for pasting into a program via the clipboard. 





(Image-1) Find Character on Windows-10 start run download!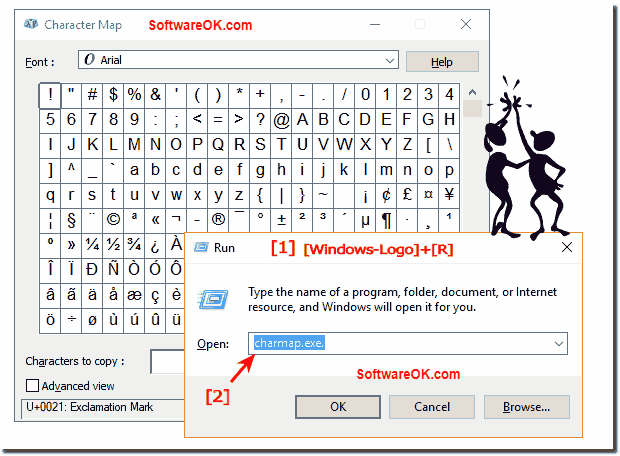 useful info (c) Microsoft
 
About using special characters and chars in the Windows Character Map.

Special character in Windows 10?
The special character is a character that can't be found on your windows keyboard. You can insert (paste) special characters by using the windows Character Map or by pressing a keyboard shortcut on your keyboard.

Character Map Windows 10?
Windows Character Map provides you to view the characters that are available in a selected font. Please use the Character Map, you can copy / paste individual characters or a group of characters to the Clipboard and paste the Character into any windows program that can display the Character.


2.) Find character map table in Windows 11/10!
Find and open the Unicode character table in Windows 10. You can choose a character set, Unicode, DOS, or Windows. You can choose a font. You can copy and paste any character anywhere. Everything is very simple! Keyboard shortcut Windows + Q and text charmap (... see Image-2 Point 1 to 3)





(Image-2) Find Character Map in Windows 10 start!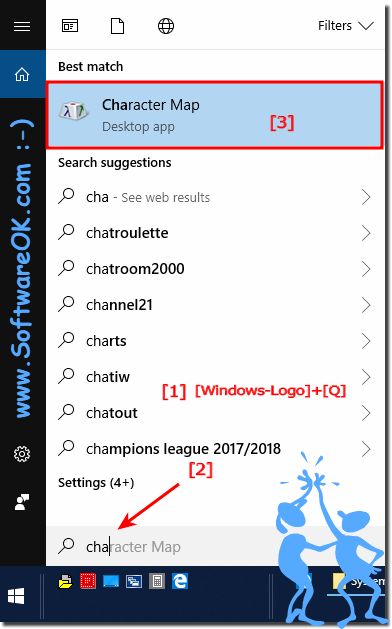 FAQ 203: Updated on: 25 August 2023 14:05