With control userpasswords2 solution, it is very simple to
auto login

in windows 10 without entering the password (default login user for Windows-10)!

Please start the Windows 10 cmd in administrative mode, enter the command

control userpasswords2

 select the user for Autologin  in Windows 10.  

Uncheck the check-box  "Users must enter a user name and password to use this computer." and click the button Apply!
(... see Image-1 Arrow 1 to 5)

And now enter the current Password (... see Image-2 Arrow 1 to 3)

See also: how to change administrator in windows 10 || system administrator in Windows 10 with full admin account access 
and: || Disable the lock screen in Windows 10 || How to find auto startup folder in Windows 10 



(Image-1) Autologin in windows 10 without password!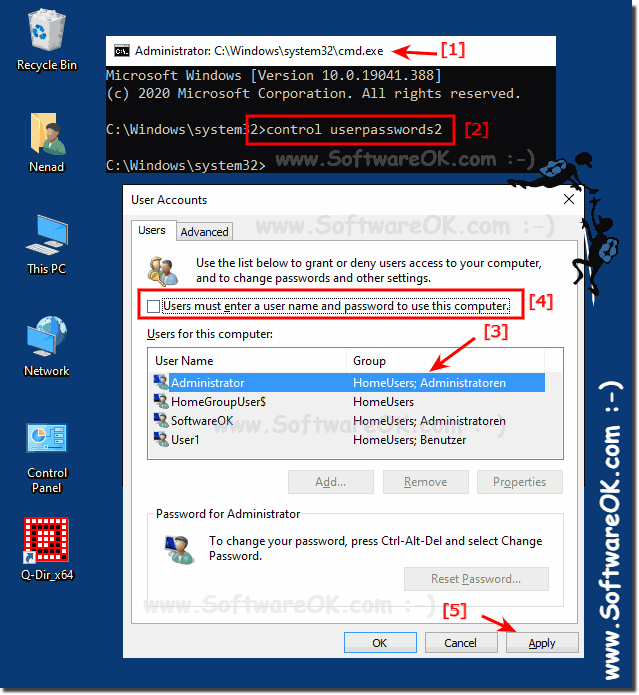 (Image-2) windows 10 Auto login no password!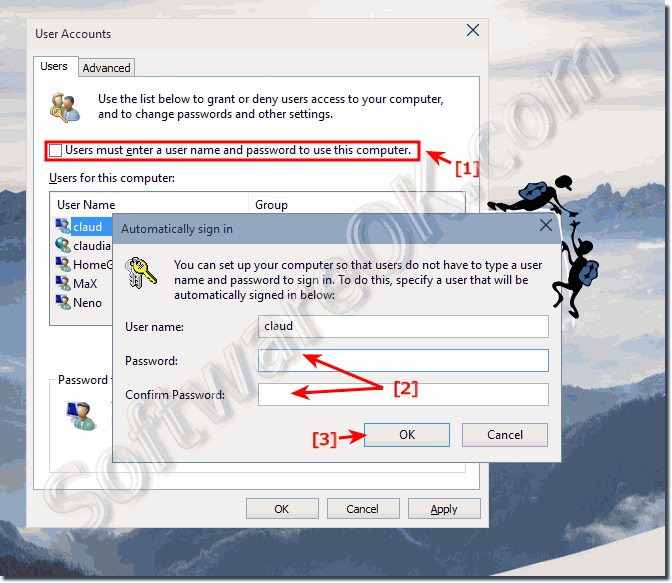 This Auto login example is suitable for: Windows 10 Pro, Windows 10 Enterprise, Windows 10 Home, Windows 8.1, Windows 8.1 Enterprise, Windows 8.1 Pro, Windows 8, Windows 8 Enterprise, Windows 8 Pro, Windows 7 Enterprise, Windows 7 Home Basic, Windows 7 Home Premium, Windows 7 Professional, Windows 7 Starter, Windows 7 Ultimate, Windows Vista

FAQ 21: Updated on: January 20th 2017 00:30