The solution is extremely easy to recover files from the Recycle Bin in Windows 10 / 11 Home / Pro and Windows Web Server 2019, 2016, ...!


Content / Examples / Tips:




1.) Restoring the files from the  Windows 10 / 11 Trash!
Open the 
"Recycle Bin"
  with the right mouse button, on the
Windows 10 Desktop Recycle Bin icon
in the context menu, select  "Open"  if the Recycle Bin is not on the desktop, just the Windows + R and the shell  command :
shell:RecycleBinFolder
To restore a File, or a folder, select the folder and / or files in the trash! 
Open the context menu with the right mouse button and  select the option   
"Restore"
.  
(Image-1) Recover Files or Folders from Recycle Bin!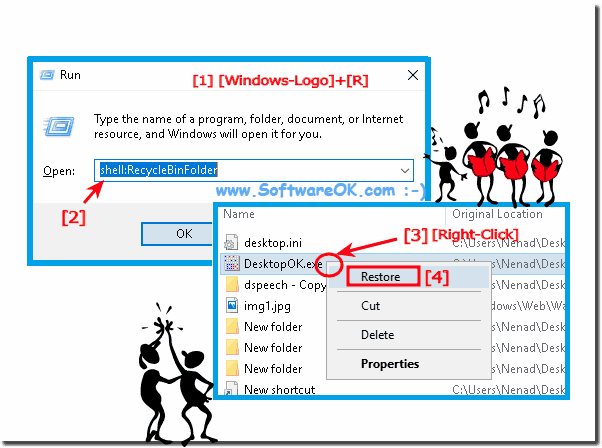 2.) Error message in File Explore: path not found when restoring!
If the error message  "Path not found"  appears, the directory from which the file in question was deleted or the  drive letter / path / name has been renamed !   
But that does not prevent you from restoring the file! 
You can recover the documents from the trash anyway by them via drag and drop drag and drop (drag and drop) to the desktop with the mouse and drop. (
... see Image-2
)
(Image-2) Recover files from Recycle Bin Path-Not-Found!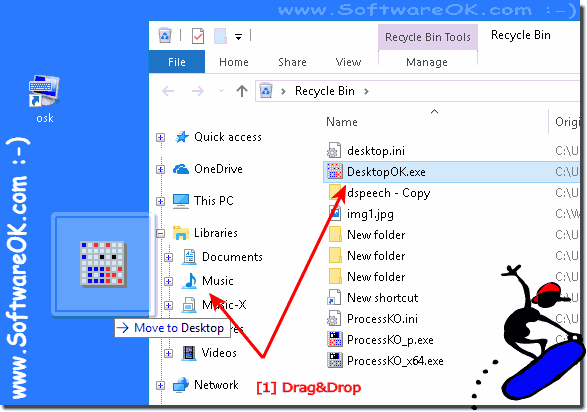 3.) Restore last deleted file in File Explorer on Windows 10 / 11!
The file or directory just deleted, or last deleted, can be restored quite quickly if you accidentally delete it. Or chose the wrong option via the context menu. 
Click on a vacant space (right-click), or on the shortcut menu on the keyboard in the folder in which the file or directory was deleted   
(Image-3) Undo Delete files from in Windows 10 File-Explorer!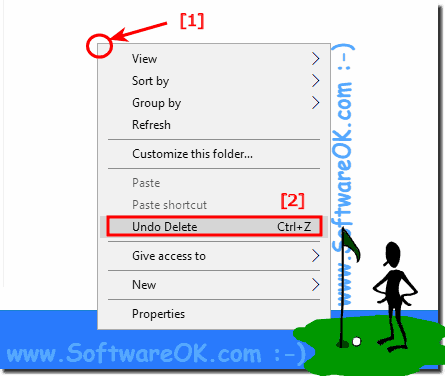 4.) Can I prevent restoring of Files on Windows 11 and Windows 10?
You can easily with ► add BlankAndSecure  to send-to context menu in the Microsofts-File-Explorer, this also works with Windows 10 with Redstone and without Redstone! 



(Image-5) How to recover files from Recycle Bin in Windows 10?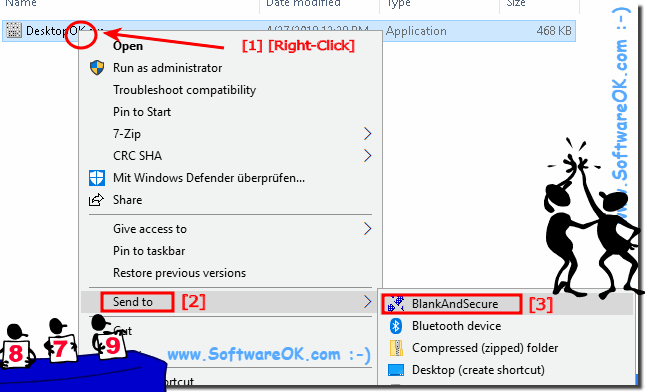 If there is enough space in the Windows 10 / 11 Recycle Bin, then the files are moved to the Recycle Bin, so long as it has not been emptied, you can restore the files, even days or even months ago, unless it has been deleted
with Safe Delete
. 
FAQ 218: Updated on: 6 July 2021 13:51