The new Windows 10 has also a Remote Desktop connection program, it is very easy to find it and use Remote Desktop!




On the new Windows 10 operating system, the solution is simple and does not require great expertise, this solution is also for Microsoft's Windows Server 2016 and Web 2012 R1/R2!


1. Please start the Windows 10 Run Dialog (using the key combination [Win-Logo] + [R])

2. In the edit box enter the command: mstsc.exe
this command starts the program for the Windows 10 Remote Desktop Connection (... see Image-1)


See also: 
► Activate Remote-Desktop-Connection in Windows-10 
► Activate System Administrator under Windows-10 




(Image-1) Remote Desktop Connection in Windows-10!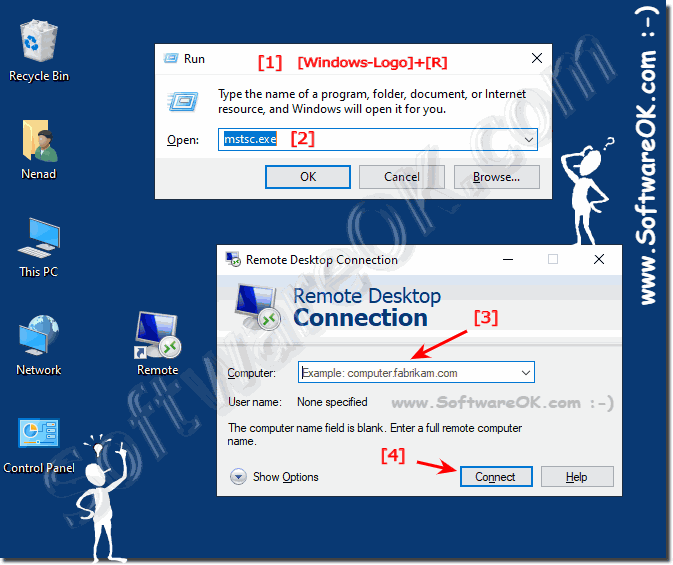 Windows-10 Remote Desktop Connection is a technology that allows you to sit at a computer, (the Windows-10 client computer) and connect to a remote computer (Windows-10 host computer) in a different location. For example, you can connect to your Windows-10 work computer from your home computer and have access to all of your programs, files, and network resources as though you were in front of your computer at work. You can leave programs running at work and then, when you get home, you can see your work computer's desktop displayed on your Windows-10 home computer, with the same programs running.
FAQ 85: Updated on: 12 June 2020 21:25