There is not a master password disk for Windows 10, please install Windows 10 and create the password reset disk for every Windows 10 user!


To create a password reset disk in Windows 10, you need a removable media, such as a USB memory stick or an external hard drive. If no external media is connected this will does not work.

In the Windows 10 Control Panel your will find the famous Windows-10 User Accounts Manager!

Or direct with the command : control /name Microsoft.UserAccounts over the Windows-10 Run-Dialog [Windows Logo + R].  And follow easy the instructions on Windows-10 Screen! (... see Image-1) and (... see Image-2) 

See also: || Auto-Login without Password || Autostart-Folder in Windows 10 || Windows-10 Standard User to Guest Account ||

Note: This disk must be created only once per account, no matter how often you change the Windows 10 Password!

See also:  ► How to use the Windows 10 Password Reset-Diskette?



(Image-1) password reset disk for Windows 10, without crack!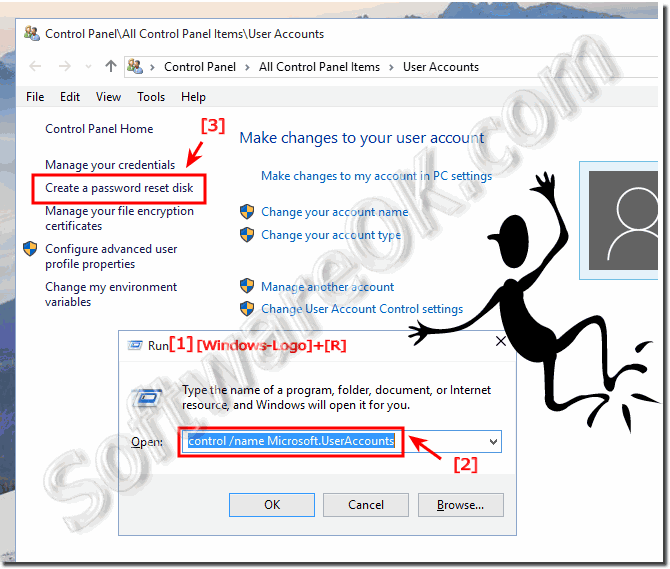 Useful Information from (c)   Microsoft :-)

If you forget your Windows-10 password, you can reset it using a password reset disk on Windows 10f or your user account (or the password reset information stored on a USB flash drive ). If you don't have a password reset disk, you'll need to get someone with an administrator account on the Windows 10 computer to reset your password for you.

Note
If a Windows 10 administrator resets your password, you might lose access to some of your files. For more information, 

If you enter the wrong password on the Windows 10 OS, when you attempt to log on, Windows displays a message that the password is incorrect. Click OK to close the message.

Click Reset password, and then insert your password reset disk or USB flash drive.

Follow the steps in the Password Reset wizard to create a new password for Windows 10.

Log on with the new Windows 10 password. If you forget your password again, you can use the same password reset disk. You don't need to make a new one for Windows 10.



FAQ 90: Updated on: March 23th 2017 11:17