The underscore in the folder size display is the relative percentage of the total ratio of orders and files in the same directory (on Windows 11, 10, ... or MS Server OS).


Content:



 

Foreword:

Displaying folder sizes in Explorer via the "Folder Size" function in Quad Explorer is a popular extension known as "Folder Size" which enables the alternative Explorer for Windows to display the folder size. The "Folder Size" function is integrated and does not have to be installed in the file explorer, it scans the size of the folder while the file manager is running and displays the value in a separate column.


1.) The folder size is the relative percentage!
The percentage display of

the directory sizes

can of course be switched off or switched off!

( ... see Image-1 Arrow-1 )
Menu ► Extras ► Size information or with the key [F9]

See also:
►  the sorting column highlighted in white ► Display details (columns)  ►  Address bar rules



Image 1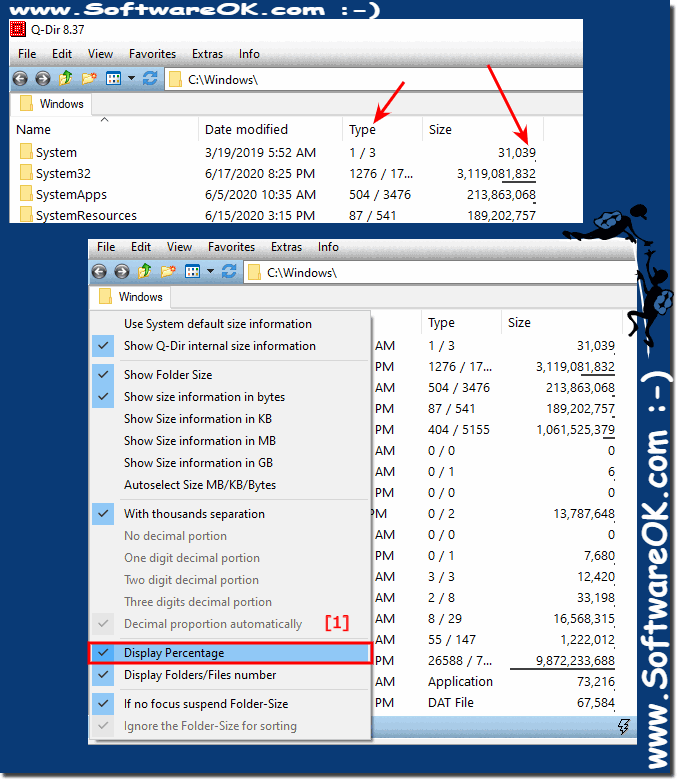 Folder sizes and number of inner objects without underscore?
Info:

Many Windows users wonder what the meaning of the underlined lines in the size column are when you work in the column view or detailed view!


2.) More information about the display of the folder size on Windows 10, 8.1, ...!
By default, Windows Explorer only shows the sizes of files, folder sizes can be easily displayed on Today without having to retrofit the function.







FAQ 82: Updated on: 4 July 2021 15:21