You can use Sticky Notes to write a note on the Windows-10 Desktop, or do anything else that you'd use a pad of paper for!


The full path of the Windows-10 Sticky Notes is %systemroot%\system32\stikynot.exe or c:\Windows\system32\stikynot.exe

Please start the Sticky Notes via Windows-10 Run-Dialog and the command: stikynot.exe, you can use the Windows 10 Sticky Notes with a tablet pen or a standard keyboard. To write a note using a tablet pen, simply start writing on the note where you want the ink to appear. To type a note, click where you want the text to appear, and then start typing.
(... see Image-1)



You can also open a new note by pressing Ctrl+N :-)

The Save Folder of Sticky Notes is

%appdata%\Microsoft\Sticky Notes

(Image-1) Small sticky notes on the Windows 10 desktop!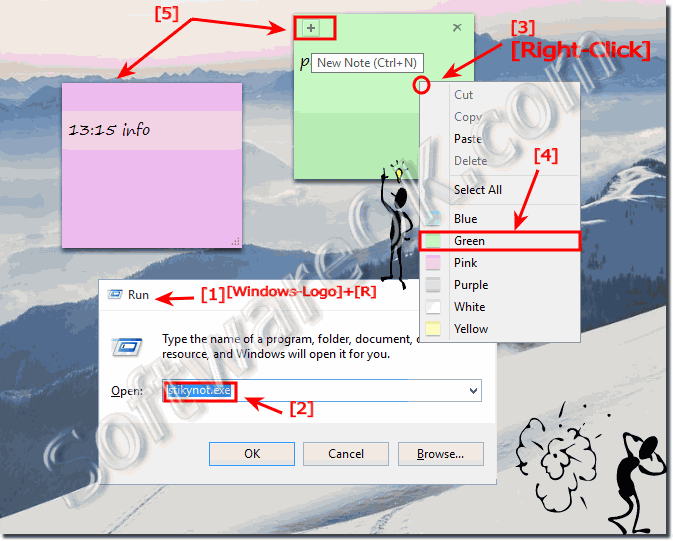 You can format text, add bullets to make a list, or change the text size by using keyboard shortcuts. 

When you've finished using a note, you can delete it to clean up your Windows-10 desktop.


You can use Windows 10 Sticky Notes to write a to-do list, jot down a phone number, or do anything else that you'd use a pad of paper for. You can use Sticky Notes with a tablet pen or a standard keyboard. To write a note using a tablet pen, simply start writing on the note where you want the ink to appear. To type a note on Windows 10, click where you want the text to appear, and then start typing!



You can use 10 Sticky Notes on Windows 10 Pro, Windows 10 Enterprise, Windows 10 Home, Windows 8.1, Windows 8.1 Enterprise, Windows 8.1 Pro, Windows 8, Windows 8 Enterprise, Windows 8 Pro, Windows 7 Enterprise, Windows 7 Home Basic, Windows 7 Home Premium, Windows 7 Professional, Windows 7 Starter, Windows 7 Ultimate, Windows Vista Enterprise 64-bit edition, Windows Vista Ultimate 64-bit edition, Windows Vista Business, Windows Vista Business 64-bit edition, Windows Vista Enterprise, Windows Vista Ultimate

 



FAQ 96: Updated on: December 22th 2016 11:13