It's easy to set the PDF printer as the default printer for Windows 11 and 10 to use it as the default for printing or creating PDFs!


Contents:


1.) As standard printer the PDF printer on Windows 11 or 10!
1. Please open the  printer directory  in Windows shortcut  Windows-Logo + R  and the command:  shell:PrintersFolder

2. Right-click on the  PDF printer  to define  the  printer as the standard printer for Windows.


(... see Image-1 Point 1 to 4)

Don't forget: ►  Activate the integrated PDF printer!



(Image-1) Set PDF Printer as the default printer for Windows 11!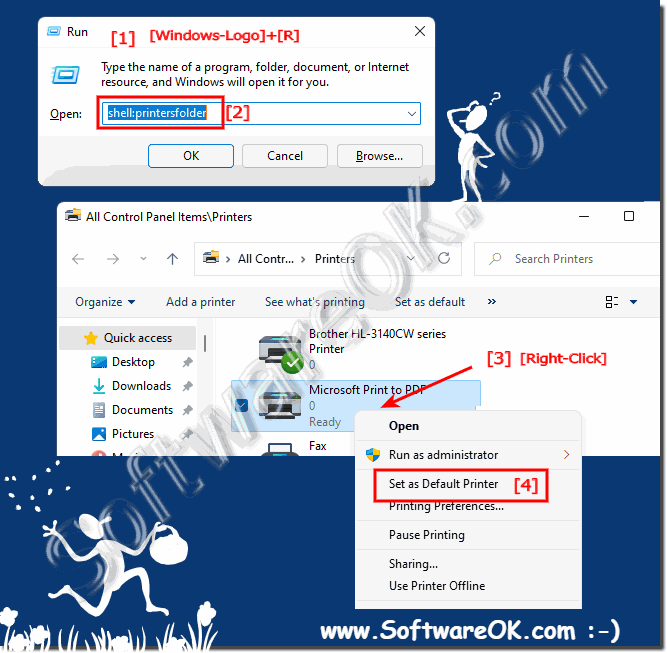 Info:
If you are now printing in the programs under Windows, you can "save printout as" PDF! When printing, enter a file name and then select the storage location where you want to save the PDF file, usually
My Documents
, or on the
Windows desktop
. When you're done, click Save. The printed document is saved as a PDF file in the location you selected. If you double-click the file you just created , you should see it as it would look if you made a PDF.
2.) Install / activate the integrated PDF printer driver in Windows 11/10!
1. Please start programs and functions (app and functions) 

PS: You can, however,  call up the window directly with the command Windows + R  appwiz.cpl

2. Activate Windows features

3. Now simply activate the Microsoft PDF printer output

( ... see Image-2 Point 1 to 5 )



Anyone who likes to and often wants to save or send old MS Office documents as PDFs will be happy about this new function in Windows. You no longer need to use other solutions or scan a document to save it as  a PDF with handy tools like 

WinScan2PDF

. Especially those who like to use

the free writing program

under Windows will appreciate this fast PDF solution!

(Image-2) Install the integrated PDF printer driver in Windows 11 and 10!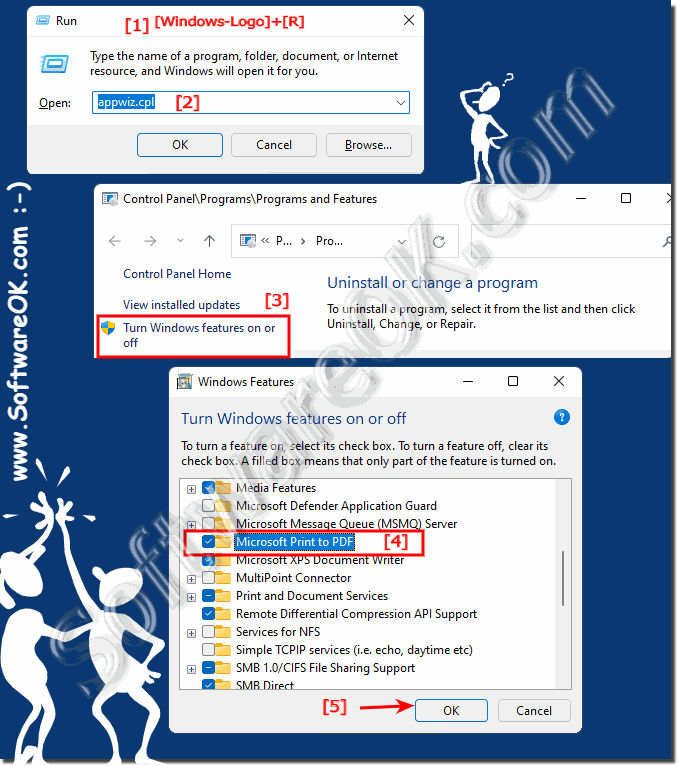 FAQ 103: Updated on: 27 July 2021 09:00