WordPad is a writing program that is a free part of Windows 10 is sufficient for example to write simple letters.
There are many free text editing programs, but sometimes you do not have to search for a long time, or before you make megabytes of downloads, you can test the WordPad or Notepad if it does not already do what you need, regardless of whether it's a Windows 10 desktop PC , on the go on the tablet or Surface Pro / Go, or even in the office on an MS Server OS.


Content / Tip:
1.) Start the free Windows 10 writing program!
Word pad can be started quickly in Windows 10, 
Windows + Q
key and
word
input
Word
. 
(... see Image-1 Point 1 to 3)

If you would like to use Word for free, you can do so online in an online version. https://office.live.com/start/Word.aspx

However, this is only possible in the browser online, as well as with the own Microsoft account, with which one must log on.
If no account is available, then you have to register first.  



Image-1-Start free Writing program in W10!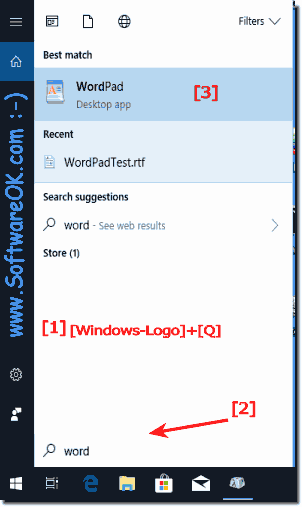 The structure of WordPad is similar to the MS Word provided in Microsoft's Office package, but the Word Pad writing program is completely free in Windows 10. As a desktop app, it has also been completely redesigned and is very easy to use.
(Image-2) Text Edit and Writing program for Windows 1!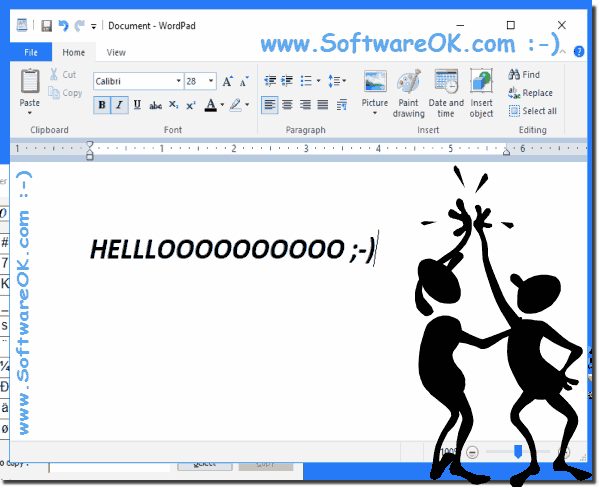 2.) Is McSoft's WordPad writing program sufficient for me?
WordPad is a very useful text editing tool and is always included with Windows for free.
With this advanced Notepad  you can create, edit, view and print text documents, for some users it is a sufficient text editing program .
With the release of new Windows 10 versions, WordPad is more comprehensive and has more features. 

For a quick author, who has no Microsoft Office programs such as MS-Word, can hereby quickly write texts and it is absolutely sufficient! 



The Text-Editor Windows 10!