It's easy to change the product key to switch from Windows 11 or 10 Home to Pro or for other reasons!
1.) Changing the product key under Windows 11!
1. Windows + R keyboard shortcut 

2. Command: ms-settings:activation?activationSource=SMC-Article-12384

3. And simply enter a new product key 

Described on Microsoft's website: 

Upgrade from Windows Home to Windows Pro

!

(Image-1) Change product key Windows 11, or make Home to Pro!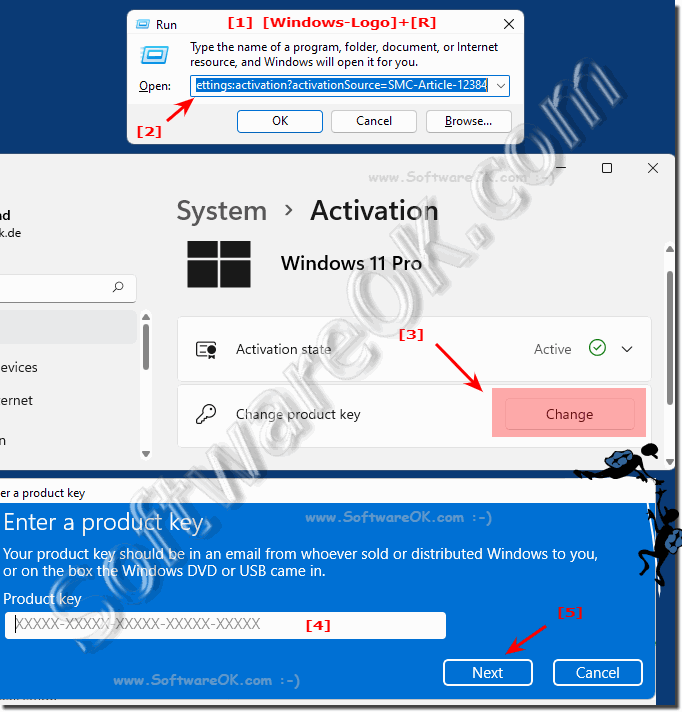 2.) Why upgrade from Windows Home to Windows Pro?
Such upgrade is very convenient that after purchasing and confirming your Windows 11 Pro or Pro Key, you don't need to reinstall everything to upgrade to Windows 11 Pro! 

Whether you want to spend an extra $100 to upgrade from Windows 11 Home to Windows 11 Pro, as always, it mostly depends on your specific needs. The vast majority of users will not miss most of the features in Windows 11 Pro!

►► Windows 11 Home or Pro Version?

Upgrading from Windows Home to Windows Pro offers a number of additional features and expanded capabilities that can be particularly useful for professional users and businesses. Here are some of the key differences:

BitLocker encryption:

Windows Pro includes BitLocker, a feature that supports full-disk encryption. This allows you to encrypt all of your data on the drive to protect it from unauthorized access.

Remote Desktop Connection:

Windows Pro allows you to access your computer using Remote Desktop Connection. This is particularly useful if you need to access your computer from a remote location.

Join domain:

Windows Pro can join a Windows domain, which is often important in companies for centralized management of computers and users.

Hyper-V:

Hyper-V is a virtualization technology included with Windows Pro. It allows you to run virtual machines on your computer, which is beneficial for developers and IT professionals.

Group Policy Management:

With Windows Pro, you have access to advanced Group Policies that give you central control over the configuration of user and computer settings on a network.

Support for more memory:

Windows Pro supports more RAM (memory) than Windows Home, which can be beneficial for demanding applications and multitasking.

App V:

Windows Pro includes support for Microsoft Application Virtualization (App-V), a technology that allows applications to be virtualized and run on different computers.

These features are primarily aimed at professional users and companies that need advanced features for their work environment. If you primarily use the computer for personal use and don't need these features, Windows Home may be sufficient.

3.) More tips on Windows 11 upgrade and such!
FAQ 195: Updated on: 17 November 2023 22:11