It is easy to a
ctivate or deactivate additional Windows features

in MS Windows 11!




If you want to use other programs, functions, services, you don't have to search the Internet right away, some useful features and programs, as well as administrative tools are hidden in the Windows features, some are activated by default under Windows 11, but you can deactivate them, when you are not using it, or simply reactivate it if necessary!



 




1.) Activate / deactivate additional Windows features in Windows 11, 10, ...!

1. Simply the keyboard shortcut Windows + R 
(
... see Image-1 Point 1 to 3
) 
Continue with: ►►  
New option in Windows 11
(Image-1) Activate / deactivate additional Windows features in Windows 11!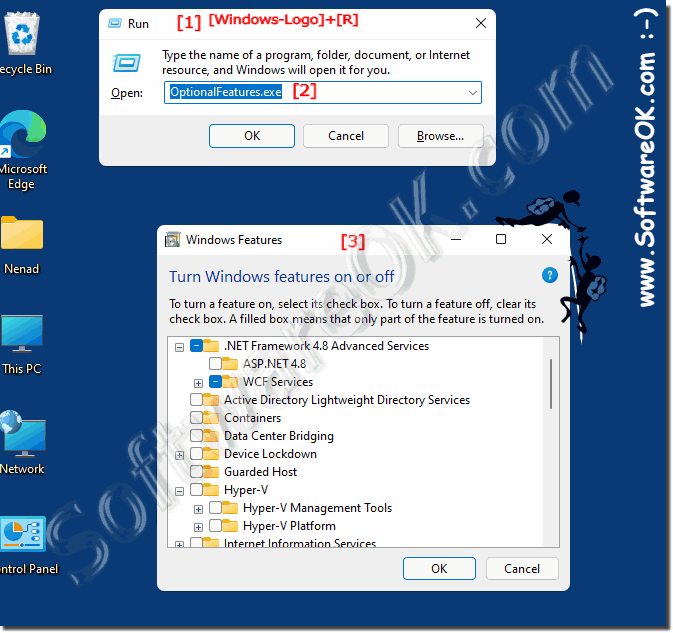 Windows features in Windows 11!

PS:

In older versions of Windows, to deactivate features they still had to be completely uninstalled on the computer. In Windows 11 and 10, the features are saved on the hard drive and can therefore be reactivated if necessary. When a feature is deactivated, it is not uninstalled, so that the hard disk space used by Windows 10 features is not reduced.  


.NET Framework 3.5 (includes .NET 2.0 and 3.0)
Windows Communication Foundation HTTP Activation
Windows Communication Foundation Non-HTTP Activation
.NET Framework 4.8 Advanced Services
ASP.NET 4.8
WCF Services
Named Pipe Activation
HTTP Activation
Message Queuing (MSMQ) activation
TCP activation
TCP port sharing
Active Directory Lightweight Directory services
working folder client
container
Data Center bridging
services for NFS
client for NFS
administration
print and document services
Internet printing client
LPD print service
LPR port monitor
Simple TCPIP services (e.g. echo, daytime, etc.)
Hostable web core for Internet information services
Hyper-V
Hyper-V platform
Hyper-V administration
tools Hyper-V GUI administration
tools Hyper-V module for Windows PowerShell
Internet
information services FTP Server
Web administration tools
WWW services
Legacy components
DirectPlay
Media features
Windows Media Player
Microsoft Defender Application Guard
Microsoft Message Queue (MSMQ) server
Microsoft XPS document generator
Microsoft printing in PDF
MultiPoint Connector
Platform for virtual computers
SMB Direct
Device Lockdown Mode
Telnet Client
TFTP Client
Monitored Host
Remote Differential Compression API
Support SMB 1.0 / CIFS File Sharing Support Auto
Remove
SMB 1.0 / CIFS SMB 1.0 / CIFS Client
SMB 1.0 / CIFS Server
Windows Identity Foundation 3.5
Windows PowerShell 2.0
Windows PowerShell 2.0 Engine
Windows hypervisor platform
Windows process activation service
.NET environment
Configuration APIs
Process model
Windows sandbox
Windows subsystem for Linux
Windows TIFF IFilter
WPFS (Windows Projected File System)

2.) New option in Windows 11 to activate additional functions!
Here is a simple example to activate the XPS viewer as a feature under Windows 11!

1. Open the Windows 11 settings as always (Windows + i)

2. Enter optional as a term in the search field 

3. Open optional features in Windows 11

4. Now click View features button

5. In Add optional features window enter xps

6. And simply mark the XPS viewer and install it with the Next button

(... see Image-2 Point 1 to 7)

If you like to click, you can open the optional features in the Windows 11 settings via APPs on the right-hand side and also install / activate other features, why not if it is possible! 



(Image-2) XPS viewer as an example feature under Windows 11!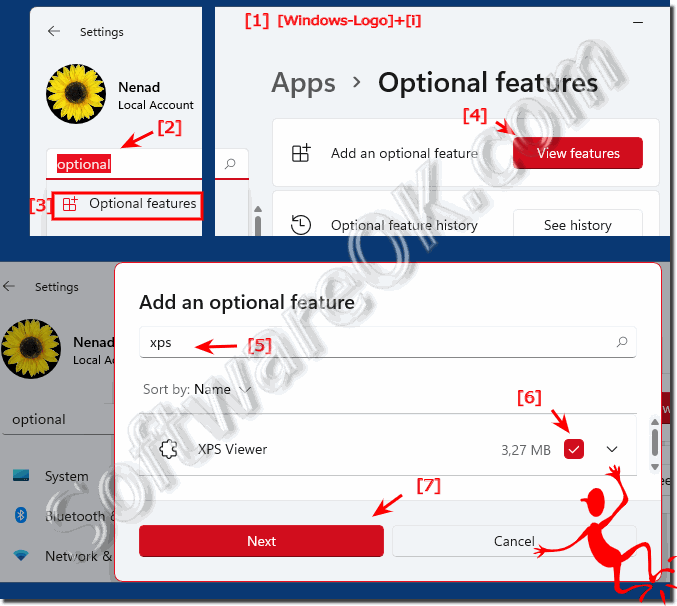 3.) ... What should I consider when activating additional functions?


Additional functions are sometimes required under Windows 11, but you should only activate those that are actually required. Any unnecessary addition to the system makes the system slower, so it's really important to only enable what is necessary. Unlike when you drive the 3.5-ton SUV to Discounter, you should proceed differently here. Each additional load costs performance and energy!





FAQ 32: Updated on: 18 September 2023 14:04