To enable or disable Remote Assistance connections to MS Windows-7 Computer, please open the "System Properties"!



1. Please open the "System" in Windows-7 (Image-1).

OR:
Start the MS-Explorer and enter in the Addressbar:
"%systemroot%\system32\control.exe /name Microsoft.System"



In the "System" Click "Remote Settings". (IMAGE-2).

(Image-2) Remote Settings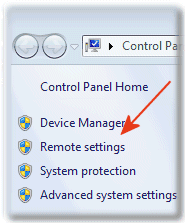 INFO: If you are prompted for an administrator password or confirmation, type the password or provide confirmation!






Remote Desktop option:

Click an option and then specify who can connect, if needed.

# Don't allow connections to this computer

# Allow connections from computers running any version of Remote Desktop (less secure)

# Allow connections only from computers running Remote Desktop with &Network Level Authentication (more secure)

FAQ 26: Updated on: 2 June 2022 19:44