Sometimes you want fast to dock two directories, or documents, and compare, here is the solution for Windows 7, 8 , 8.1 and Windows 10.

Thanks to the docking feature in Windows you can two documents, or two Windows compare very well, or at the same time open two directories in Explorer Window. 

It is even faster with the keyboard shortcut to the dock. Test it easily.
Press [Windows logo + E] to open the first Explorer window.
Then press the [Windows logo + right arrow] button, the first Explorer window is docked right
Now another window of MS Explorer also [Windows logo + E]
Left dock the second Explorer window [Windows logo + left arrow] button
You can compare other Windows, such as for example two Word document! Open two Word documents, select the corresponding window! Use the Windows logo key + left arrow or right arrow to position the window to compare.





(Image-1) Hotkeys to dock the window on Windows Desktop!


(Image-1) Compare Directories in the MS-Explorer!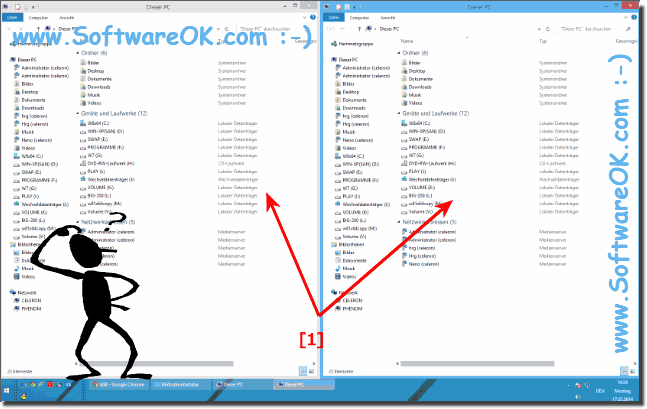 FAQ 191: Updated on: 25 July 2018 02:55