If you want to create automatically in Windows 8.1 and 10 copies of files you need to activate or turn on file version history!



1. To do this, so  please press the key combination [Windows + R]

2. and enter the command: control.exe /name Microsoft.FileHistory (... see  Image-1 Arrow-1). 

3. Then in the Control Panel window opens file version history (... see  Image-1),

4. Now just click in file version history  the "Turn on" button (... see  Image-1 Arrow-2)




Image-1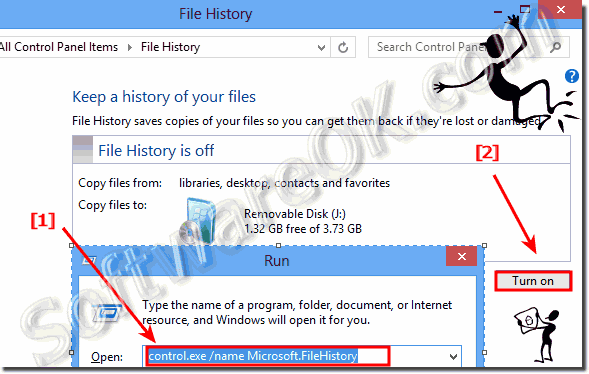 Windows 8 - Enable automatic backup to create File History
Info by Microsoft(c):

Before you start using File History to back up your files, you'll need to set up a drive to save files to. We recommend that you use an external drive or network location to help protect your files against a crash or other PC problem. For more info about using File History, see How to use File History.

File History only saves copies of files that are in your libraries, contacts, favorites, Microsoft SkyDrive, and your desktop. If you have files or folders elsewhere that you want backed up, you can add them to one of your existing libraries or create a new library.

Tip:

You can also set up a drive in AutoPlay by connecting the drive to your PC, tapping or clicking the notification that appears, and then tapping or clicking Back up your files on this drive.



FAQ 94: Updated on: 12 May 2020 20:09