IsMyHdOK  has a screenshot function, you can save an image with the HD test results in PNG file on your windows computer to compare it with the last HD benchmark. 
Optional screenshot directly open in MS-Paint or save as a file on HDD or SSD!
Please use  ► 
... always the latest version of IsMyHdOK
!  
(Image-1) HD benchmark Screenshot function!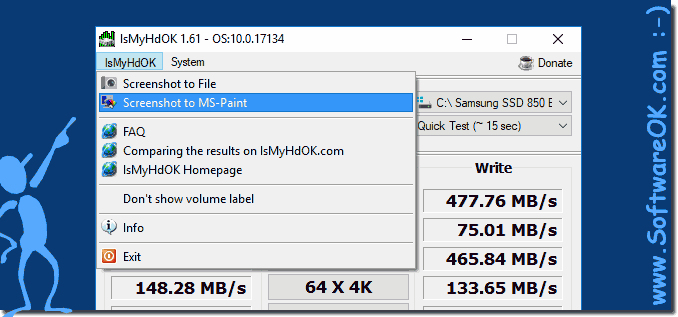 This elegant solution is not only written for Windows 10 to take a screenshot on Windows HD benchmark, even if you can see above under Windows 10 shot screenshot that it has been made under Windows 10. 
You can easily use this HD benchmark screen-photo feature on previous versions of Microsoft's Windows operating systems as a screen-shot, a simple yet effective tool Hard Disk Test Tool, with various extras!