It's easy to activate the developer mode in Windows 11 or 10 without ifs and but, as a developer you also need it!
Even those
who are already familiar with the Windows 11 or 10 debugging mode
can also test or try out their own or third-party apps that are not available in the MS store as a developer to quickly identify any errors or as a beta tester and as a MS store software developer Earn money, but anyway here are simple steps on how to do this quickly without having to buy a help manual!
But be careful when using hacked APPs that you do not catch any ransomware!
Content:
1.) Activate developer mode on Windows 10 and Windows 11!
1. Open
the Start menu
as always.
2. Select "
Windows Settings
" there.
3. In the "Update and Security" category you will see the sub-item "For developers".

4. Just activate the "developer mode"
(
... see Image-1 Point 1 and/to 7
)
Tip:
If you want the developer mode to be deactivated again, repeat the steps and activate the "Do not use developer functions".
(Image-1) Windows 10: Activate developer mode without any ifs and buts!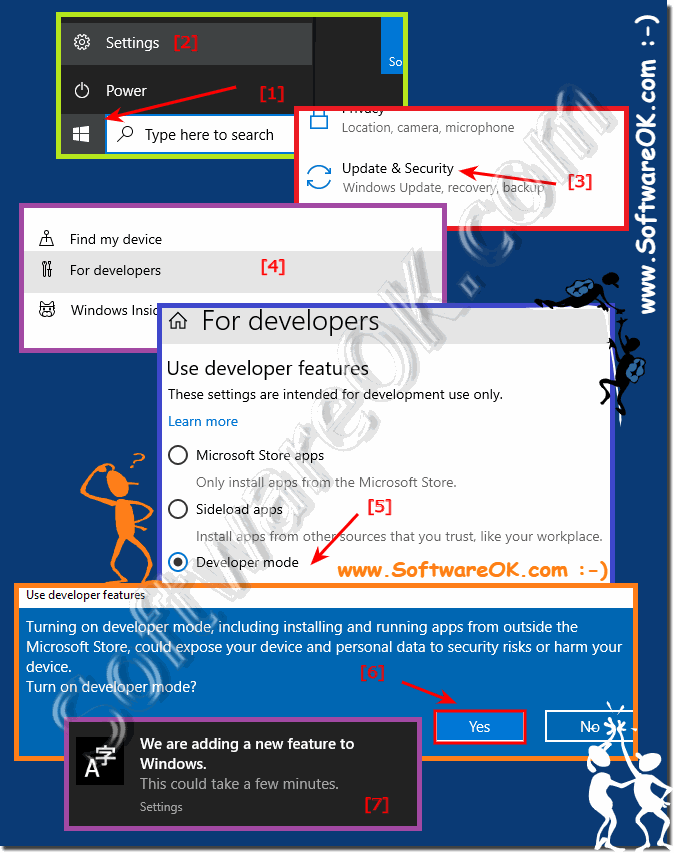 2.) What should I pay attention to in Windows 10 or 11 developer mode!
In developer mode you should not install APPs that you do not trust, in developer mode there is a greater risk of system damage and possibly having to reinstall Windows 10 and Windows 11!
3.) More information and links to developer mode and .... like this!
For MS Store as developer APPs can be developed with MS Visual Studio.
If you have made the settings of Windows 10, you have no problems developing developer APPs if you have activated developer mode.
When you're in developer mode, Windows apps you develop make it easier to test, change various developer-oriented settings, and do other things.