It is very easy to deactivate or adapt
the APPs notifications, messages window

on Windows and MS Server!

Content:
1.) Opening the notification and message settings!
1. Please start ►
... as always the Windows 10 settings
2. Open in the settings
"System"

3. Now click on
"Notifications and actions"
on the left side .
4. Under
"Notifications"
you can make general settings
(including whether notifications should be displayed on the lock screen)
More: ►► 
General notification and notification options!
(Image-5) Disable and customize APPs Windows 10 notifications!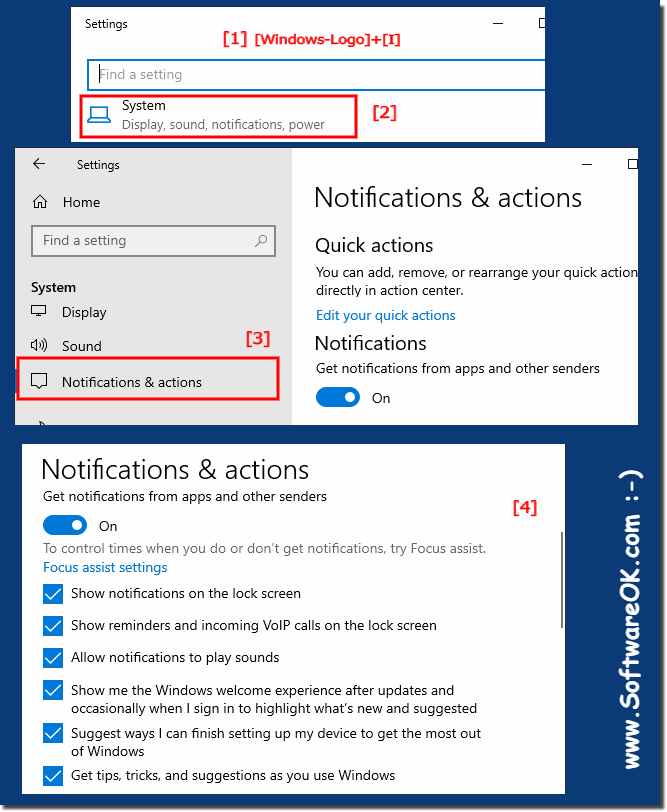 2.) What can happen if I turn off the notifications?
Enabling or disabling notifications from apps in Windows 10 is absolutely fine, only you can miss important messages!
The Action Center in Windows 10 collects and displays notifications and warnings from conventional Windows applications and system notifications, as well as from modern apps. Notifications are then grouped by app and time in the Action Center. When the Action Center receives a new notification, a notification banner will briefly appear above the notification area of ​​the taskbar to let you know.
(Image-4) Windows 10 notifications and messages listed!