Even in Windows 10 the Internet Explorer has a status bar under Windows 10 you just have to enable them to see some more information!
Content:
1.) Internet Explorer 10 or 11 and the status bar + menu bar?
1. Please start the Internet-Explorer use the Keyboard Keys
Alt+V
2. And GoTo
Toolbars
 Sub-Menu and enable
3. Or disable the Internet-Explorer Status-Bar, Menu bar, Command bar, and / or Favorites bar! 
(
... see Image-3 Point 1 to 3
)
(Image-1) Windows 10 Internet-Explorer Status-Bar!

(Image-2) Internet Explorer status bar and Zoom-Feature!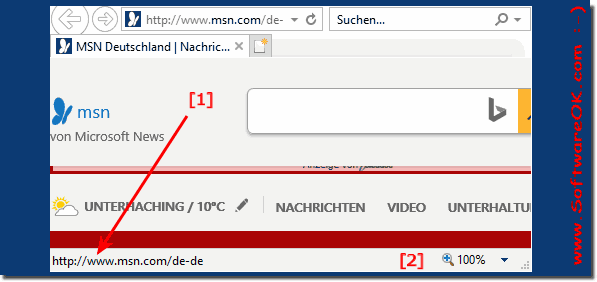 2.) What does the 100% sign on the right in the status bar do?
With this you can quickly zoom out and forget about the page so that you don't have to zoom out in Internet Explorer ! 
It also works with the key combination [CTRL] + [+] to enlarge the view, or [CTRL] + [-] to zoom out.
(Image-3) The Internet Explorer page zoom in the status bar!