The solution to bypass the trash (recycle bin) when deleting files and Folder under Windows 10!
If you want to delete without recycle bin then hold down the "Shift" key and then "Del" key! This solution is for Windows 11, 10, 8.1, ... , or drag the file, folder, image, ... to / over the "Recycle Bin" and also holding down the shift key. You dont need a
portable File eraser
! (
... see Image-1
)
(Image-1) Bypass the trash (recycle bin) when deleting under Windows 10!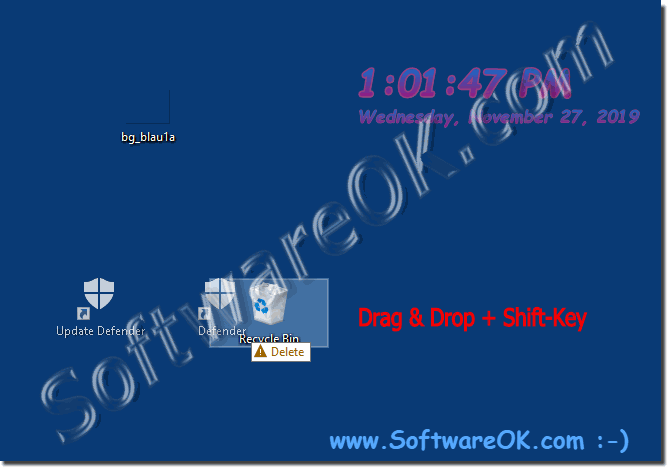 Info:

If you delete files, folders or, for example, desktop icons in Windows, they automatically end up in the trash. In this way, they are not really gone or even deleted, but rather the operating system just moved them into their own folder. To retrieve them, double-click the trash, highlight the content you want, right-click on it and choose [Restore]. The file then reappears in the original location. The wastebasket is therefore a safety function designed to protect the user from accidentally deleting data that is still needed. The normal deletion to the recycle bin is therefore a practical solution if you want to create more overview or space on your hard drive or SSD. If you accidentally delete any content you still need, you can easily retrieve it in many cases. The fixed volume of the recycle bin prevents you from wasting more and more space on the disk with your old files. A tip: You can also bypass the recycle bin directly by pressing the "Shift" key when deleting a file.