If you suspect that similar, same, or even identical images are in different folders - here's the solution for Windows 11, 10, ... etc.!
Download the
free tool Find.Same.Images.OK
to find similar, or the same images in different folders, sometimes there are so many duplicate and same images in different folders, the SSD, HD disk space is becoming increasingly scarce and scarce , not only on the desktop computer, also on the tablet, and MA Surface Pro / Go!
Start the
image comparison tool
 via the [...]
[1]
button to change the folder and the [... +]
[2]
button
to add a folder

[4]



You can also drag and drop and dropping from the Microsoft File Explorer to add different folders with identical images for image comparison.

The Image Comparison Tool also includes an internal Internal File Explorer  [3] , which you can also use to drag and drop.


(Image-1) Compare Images in Multiple Folders!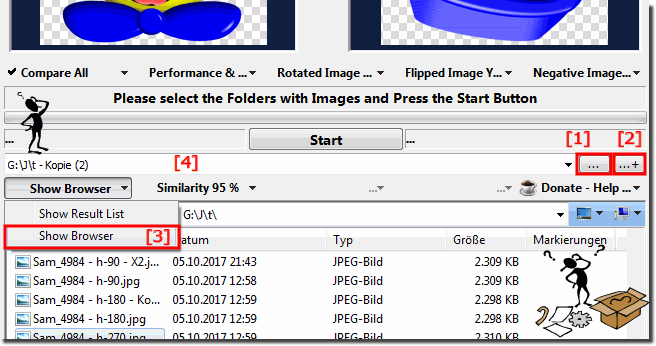 Info:
To compare images in multiple directories, you have several options, the application recognizes the same images stored in different directories and under different names, duplicate images of different sizes, and images that are virtually indistinguishable ,
The similarity between two images is displayed in%.
This information allows you to make a decision with your own visual perception.