It is not expensive to hide drives, hard drives, partitions, data carriers under Windows 10/11!
For example, if you have bought an additional drive, - ergo SSD drive in order to use more space on your Windows 10 computer, you may want to
make it invisible to other users
after formatting the new drive , regardless of whether it is with the popular FAT, or FAT32, NTFS, ... formatted, every hard drive connected to your PC is displayed in the disk management tools and usually in Explorer and other desktop applications.


Content:
1.) Hiding external and internal data carriers under Windows 10! 
1. Start the
Windows 10/11 disk management
 as usual.
2. Right-click to remove the path and hide the hard disk partition!
PS: However, it is even better
to use
an external data medium under Windows 11/10 and to really separate it from the computer, so it is 100% ensured that no one can see this data!



(Image-1) Hide drives, Hard and SSD partitions on Windows 10!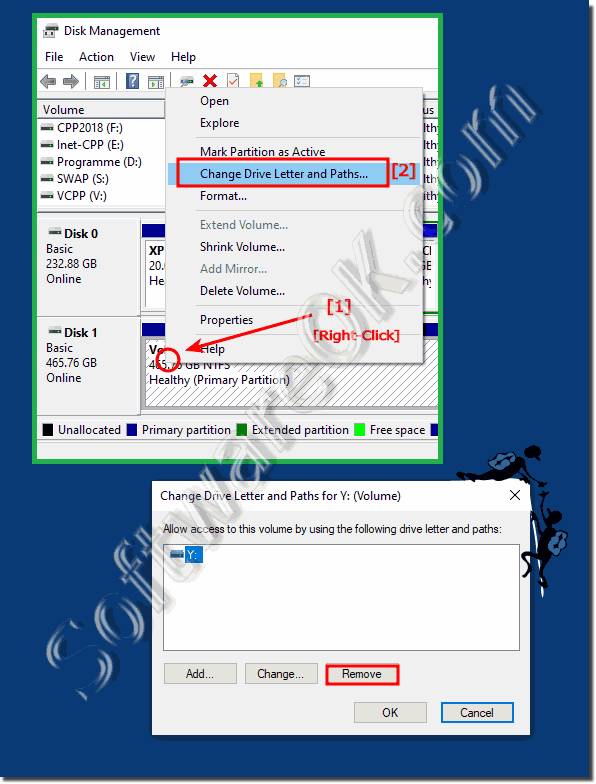 Info:
Typically, the partition and not the entire hard drive are hidden to prevent accidental users from accessing your laptop, or desktop computer access, access confidential files.
It is used in certain tools, such as
B. Disk Management still appears, however, is not displayed in Explorer or in various other programs in which it may not be displayed.
If you have important and confidential files, or illegal data on your computer, you can prevent someone from accessing the files.
It's a good idea to put all important and confidential files and documents on a hard drive and then hide the entire hard drive partition.
In this way, the hard disk partition is invisible and is not displayed in Windows File Explorer, so that other users cannot see the hard disk partition or the files on it.
Another good idea is how to show and hide a hard drive partition in Windows 10 File Explorer.
However, it is even better to use an external data medium and really separate it from the computer!

2.) More information and tips on hard drives and partitions!