There are easy ways to get the Windows 10 product key without hacking tools / knowledge!
Info:
You have probably lost, forgotten, your Windows 10 product key ...! However, the product key is important if you reinstall Windows, or if you
need to transfer Windows to another PC and reactivate it 
. Here you will learn how to find the Windows 10 product key using PowerShell, command prompt without third-party software the key in a simple way, because everyone knows how to read the product key under Windows with the help of third-party software!
Content:
1.) Find the Windows 10 product key using PowerShell!
(Image-1) Determine the Windows 10 product key using PowerShell!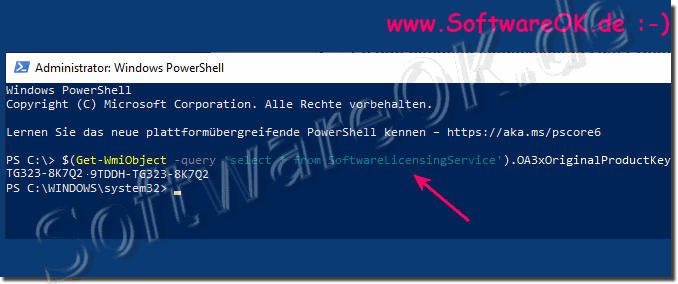 2.) Find the Windows 10 product key using the command prompt!
1. Start an elevated command prompt. 
2. Type the following command and press Enter. 


wmic path softwarelicensingservice get OA3xOriginalProductKey
Your Windows 10 license key will appear immediately.



(Image-2) Windows 10 product keys via the command prompt!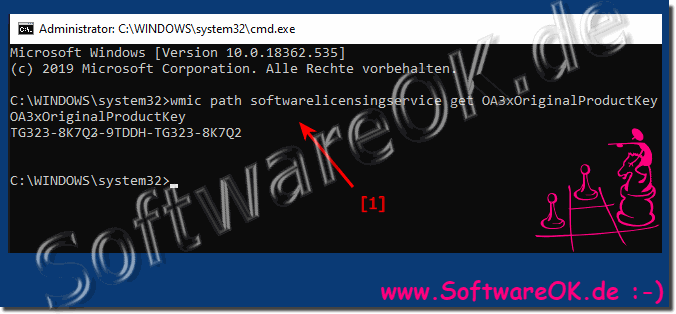 The above methods are fairly simple, but may not work in some cases.
Then you can google or binge for third-party software to restore your Windows product key.
There are many key finders, plus other tools, not all of them are reliable and you may not only find the product keys for Windows, Office, SQL Server, Adobe and others, but also catch malware, ransomware, viruses and Trojans.
 




3.) I have to consider something when reading the product key, it is legal?



Yes it is absolutely legal, but you should note that under Windows 10 it is no longer possible to read out your product key if Windows 10 was not purchased directly, or by upgrading Windows 7 or Windows 8.1 you only get a digital license and no key so the key read is worthless!