Find classic desktop programs on Windows 10 and 11 that have been installed, for example to uninstall them!
List installed desktop programs in Windows 10 and Windows 11!
1. Start the
Windows 10 Control Panel
as usual
2. Press the F3 key, enter "Programs"
3. And you can list, view, uninstall, installed desktop programs ... 
(
... see Image-1 Point 1 to 3
)
PS:
Classic desktop applications will continue to be part of the Windows platform for the time being . After upgrading to Windows 10 from Windows 7, 8.1, you may have to restore or reinstall your classic desktop programs, or they may not work, because
Windows 10 compatibility mode
does not help either .
►►► 
... Find installed programs in Windows 10/11, how can I uninstall them!
(Image-1) Find installed desktop programs on Windows 10 classic!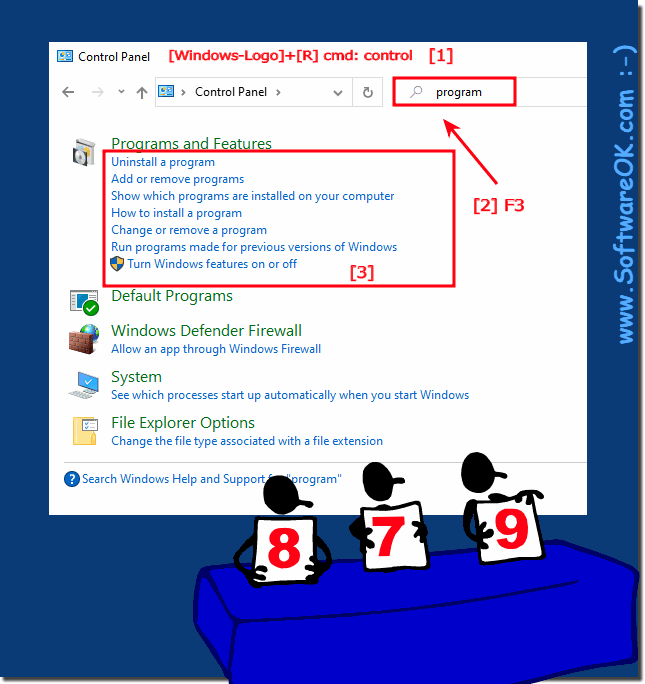 However, the desktop applications are more useful applications, which you can sometimes search for in vain via the Windows Store.
Universal Windows apps are designed to make it easier for developers to write programs and make it easier for users to acquire programs for various types of devices.As a developer, you are not enthusiastic about this because you know it on your cell phone, everything is packed with advertising and only every 10th application is functional .Except
 you are content with a chat program, candy crush, ice princess, etc ....