For
external monitor and closed notebook / laptop

, you can continue to work under Windows 11, 10, 8.1, ... when close the lid!

Many Windows users connect their laptops to large external monitors to increase usability and productivity. After connecting the laptop, MS Surface or notebook to an external monitor, users prefer to use an external keyboard and mouse, which makes sense, and continue to work on

Windows 10 even when the laptop is closed

.





 

Content:
1.)
How to run the Windows 10 or Windows 11 laptop with the lid closed!
1. Please start the 
power options in Windows
 and change the settings for your notebook. 
2. Open
Control Panel in Windows
 and click Power Options,
or:
2b. Start the power options directly from the
Run dialog in Windows
 

3. Shortcut  Windows Logo + R and with the command:  control.exe /name Microsoft.PowerOptions

Please click or type the text Select What to close the computer should happen,

the option "when I close the lid": to "do nothing" 

(... see Image-1 Point 1 to 5)


(Image-1) External monitor, work with closing the notebook lid under Windows 10!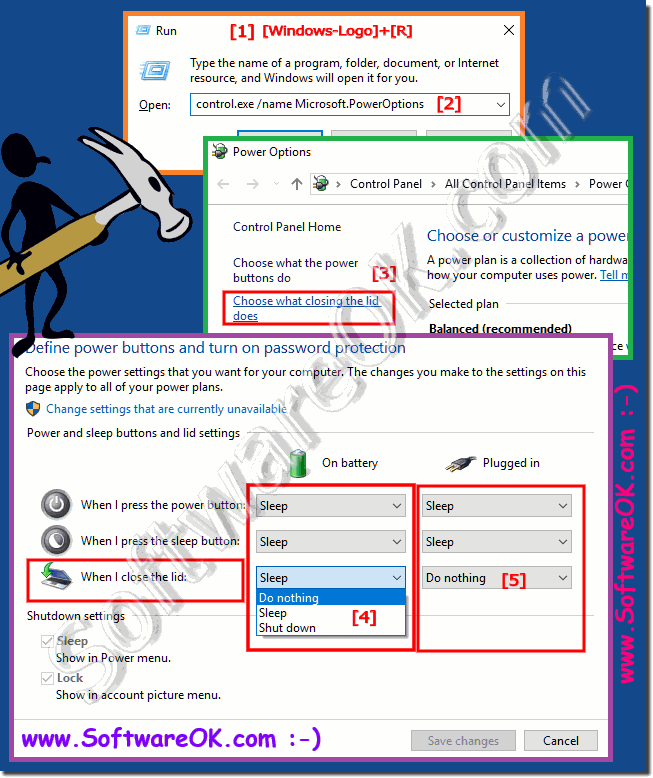 2.) More tips for laptops and ... similar on MS Windows OS! !

After connecting the laptop to an external display and an input device, many of us leave the notebook lid open, even if only the second monitor / external monitor is used, because closing the laptop or notebook lid turns it off. By default, in Windows 10 and earlier versions, the laptop enters sleep mode when you close the notebook lid. For this reason, most users leave the lid open, even if they only use the external monitor (second screen). The truth is that Windows 10 and earlier versions allow the laptop to continue running even after the lid is closed without going into sleep or hibernate mode. This feature is useful



3.) What can I do if it doesn't work?