Problems with NAS (network drive setup) and networks that are not displayed on the Windows 10 / 11 computer!

The reason is that after the update to Windows 10 version / build 1709 or to Windows 11 for access to the memory various NAS drives such as the popular FRITZ box, speed port Telekom, or other networks, as well as the SMB1 network protocol must be enable. This is no longer installed / activated by default. But that's not a big hassle on Windows 10 / 11 Home and Pro. 


Content / solution:
1.) SMB 1.0 about programs and features!
About W10 start: 

On the Windows taskbar, click "Start" and then on "Settings"

On the Settings menu on apps

Click in the section "Related settings" on "Programs and Features"

Or directly:
You can
call
the window directly using the Windows + R
appwiz.cpl
command . And change Windows features.
(Image-1) NAS and networks are not recognized on the Windows 10!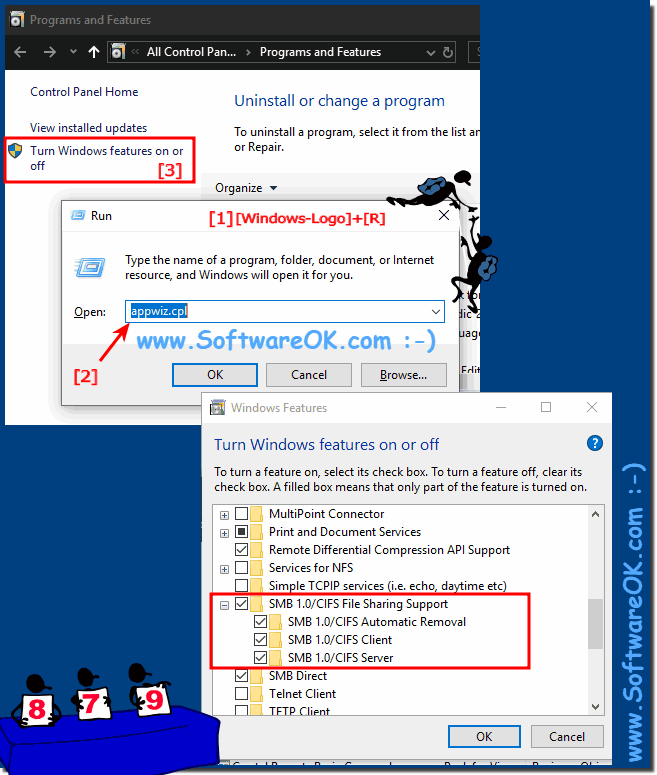 2.) Enable support for the SMB 1.0 / CIFS file sharing!
Now, click or tap on its touch in the
"Uninstall or change a program"
window
: 
"Turn Windows features on or off"
.
In the Windows Features window, enable Support for:
SMB 1.0 / CIFS File Sharing or SMB1.0 / CIFS File Sharing Support .

Then just click on "OK" .
After that, you will be prompted
to restart Windows 10
:
At the end of the installation, just click on 
"Restart Now"
.
(
... see Image-2
)
(Image-2) NAS and networks are not recognized on the Windows 10!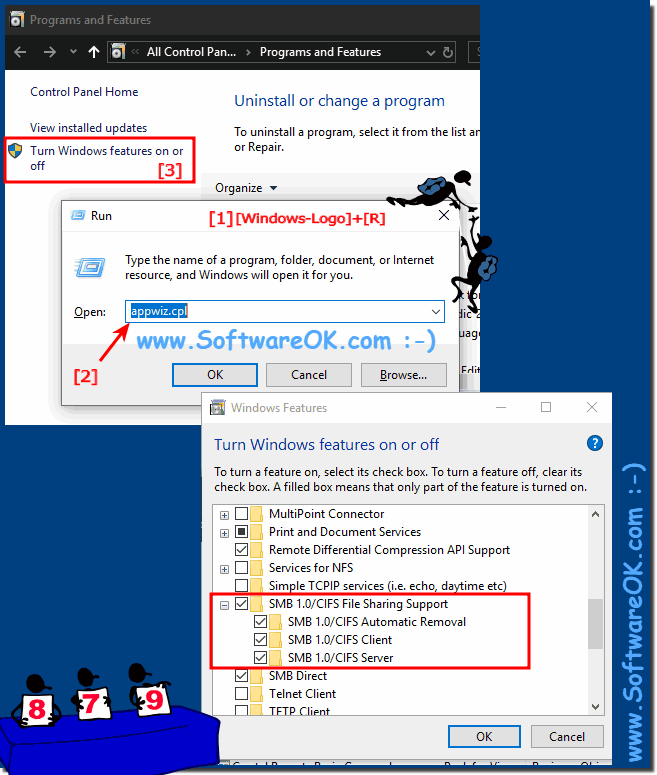 Making sure your Windows 10 has SMB support on your Windows 10 computer is no magic. Yes, not only on Linux, Appel's Mac OS or Android you can easily use SMB or NAS. The elegant way to enable SMB 1.0 / CIFS file sharing support is not just for Windows 10 desktop computers. As you can see at the top of the Windows 10 shot screenshot, it is quite easy to access NAS again. You can easily apply this simple and fast SMB solution to other Microsoft Windows System configurations, whether it's a Windows desktop, tablet, Surface Pro / Go, or even a server operating system.


3.) Further tips on possible problems with the network!
As you can see, problems with NAS (Network Attached Storage) which are usually very rare can have a small root cause. However, other problems can also arise that are not so easy to fix, here are other helpful tips that can help you with any network problems you may have. Which can also indirectly affect the NAS access.