Share Windows 10 folders on the PC so that other users or computers in the network or workgroup can access them!
One can classically control the
Windows 10 folder access
, but why not even use the
"Assistant for creating folder shares under Windows 10"
 , the elegant solution tip is written not only for
Windows 10
, this can be safely applied to earlier MS Windows operating systems Whether it's a Windows desktop, tablet, Surface Pro / Go, or even a server operating system.
Start the 
"File Sharing Wizard on Windows 10"
with the keyboard shortcut

Windows + R

 and the command "shrpubw" and you
're ready
to go!


The assistant for creating folder releases under Windows 10 is self-explanatory you just follow the instructions!

See also: ►►   Is it possible to activate the System Administrator under Windows-10?



(Image-1) Create A Share via Shared Folder Wizard in Windows 10!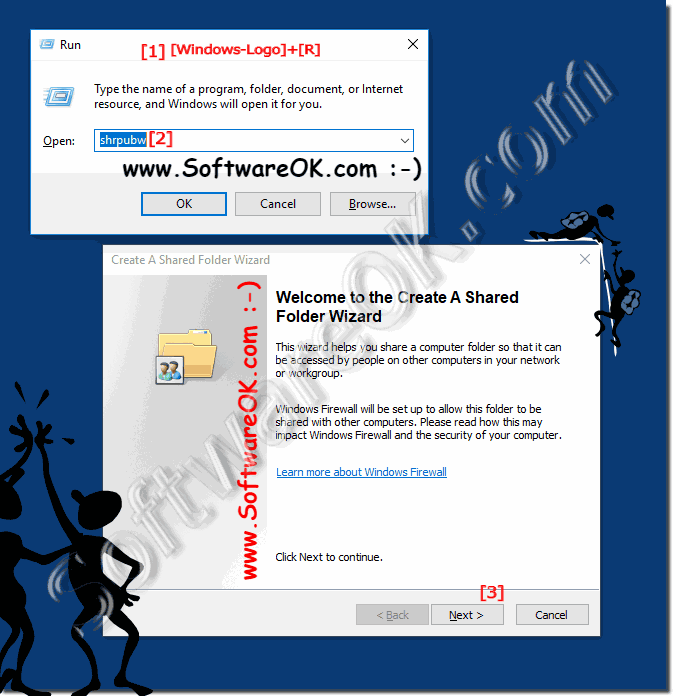 In the third step you have to decide (... see Image-2 Point 1)


Set the permissions for the folder to be shared.


By default, only share permissions are set for this
folder
.
If you want to control the local access permissions for this folder or objects in the folder, click Custom ..., and then change the permissions on the Security tab
to apply specific permissions to the folder.


(Image-2) Permissions for Shared Folder on Windows 10!