To protect the content of your Microsoft Word documents, add password protection to the document, why not when it's so easy!



Contents:




1.) Protect Word document with a password!
1. Open the document in question in MS Word

2. Click on "File" in the upper left corner of Word.

3. Select "Info" in the left sidebar.

4. Click on "Protect Document" in the right pane and on "Encrypt with Password"

(... see Image-1 Point 1 to 5) 

PS:
Later you can unprotect your document by removing the password protection if You want. Just repeat the steps! . Clear the Password field and click OK. Don't forget to "Save" from the left sidebar (See image under Information). 




(Image-1) Protect the Word document with a password!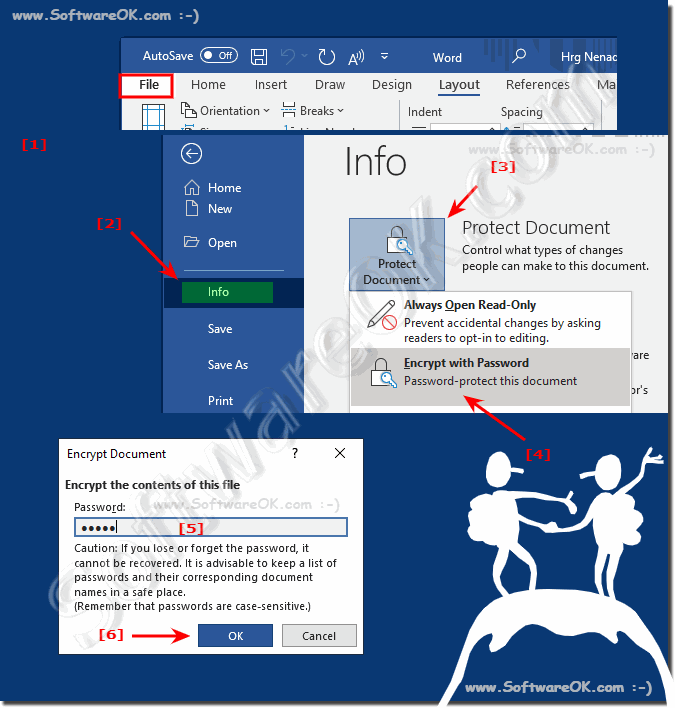 2.) What should be considered with password-protected Word documents?
If the document is password protected, the user will be prompted for the password each time the document is opened. This handy built-in Word feature can also prevent you from gaining access to the document if you forget the password!


3.) More information about password and Co.!
Passwords can usually be a handy thing, but you always have to be careful not to lock yourself out, so passwords should be used with care!












 



FAQ 79: Updated on: 18 September 2022 08:56