The time zone settings on MS Windows Desktop 11, 10, ... and Microsoft Server systems is easy to open and to change!
In addition to the
actual time and date
, the time zone is one of the basic time settings in every computer system. If the time is to be displayed correctly, the time zone should be set according to the geographic location of the computer.
The solution: time zone settings for MS Windows 11, 10, ... and servers!
Step-1: Shortcut Windows + R and command 
timedate.cpl
Step-2: Press the button
"Change time zone ..."
Step-3: Adjust the Windows time zone 
Step-4: Confirm with [OK]
(
... see Image-1 Point 1 to 5
)
TIP:  From Windows 10 / Server 2019 there is another option: ►► 
... change the time zone in Windows!
(Image-1) Time zone settings on MS Windows 11 OS Home. Pro. ...!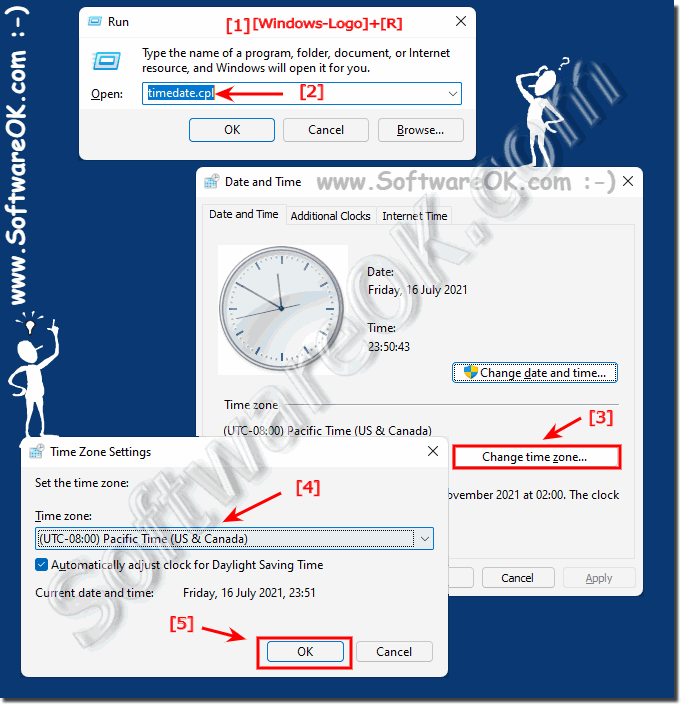 In the Windows family of operating systems, it is easier to change the time zone directly from the graphical interface by clicking the clock in the system tray and selecting Change date and time settings. Next, you need to click the Change Time Zone button, select an appropriate time zone from the list of available time zones, and save the changes.