Just activate hearts or flowers for the mouse pointer in 4Ur Windows 8 Mouse balls from version 2.33, is also for Windows 11 and 10 ;-) O.K.!
Please choose colors and objects 
that will have a positive effect on you
.
Content:
That could interested you too: ►
heart flakes rotate on the desktop
!  ► 
... Green Flower on the Windows Desktop!
1.) Switching to hearts or flowers! 
Please always use if possible ► 
... the latest version of 4-Windows-8-Mouse-Balls
 ! 

Start  
4-Windows-8-Mouse-Balls
  and choose Heart 1-4, or Flower 1-4    
(Image-1) Hearts and flowers for the mouse cursor 4 Windows All!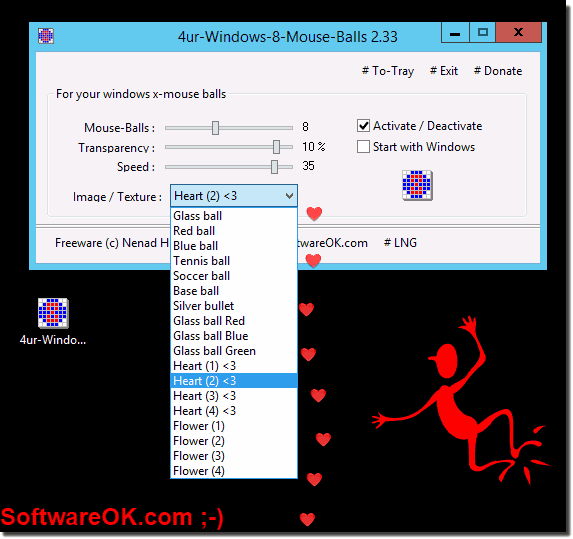 2.) Why new colors and objects, what sense has it!
The importance of colors and objects is often underestimated in Europe!
The effect of colors is almost a science that examines human emotions and reactions to particular colors. This science has even proven that people react differently to certain colors and show different emotional states, as well as different behaviors and moods.
So for the extended elastic mouse pointer, please choose colors and objects
that will have a positive effect on you
. For this reason, certain user of 4Ur-Windows-8-Mouse-Balls want to see only certain objects on request, especially in Asia the meaning of the colors is pronounced.
Some avoid white wrapping paper or the flowers should not be yellow. Some colors symbolize death, or bring bad luck, yellow is sometimes the color of jealousy, the color of happiness in China is red, etc
PS: The objects in warm colors are closer to the human eye than cool colors. With this knowledge opens up a large field for the application of this. What is even used today for the purposes of marketing, advertising and sales promotion in general, you hardly believe it.
The colors !?!