For safe erase of memory cards, you can remove the entire tracks on the memory cards on MS Windows 11, 10, ... or MS Server OS!
Info:
Please note that if you want to pass the memory card you should remove the complete tracks on the memory cards.
Overwriting the free space via the random numbered on 
memory cards removes
the  standard

delete marks

from the memory cards, whether it's an SSD , SD, or

MiniSD

.

Not always ask and wondering if someone can recover the data .


Please start ►► 
... BlankAndSecure Tool
Open from the main menu, select Fill the
free space with random numbers +
and select the desired option:
1. End the program
2. Shutdown PC
3. PC Standby
3. End program + PC Standby
(
... see Image-1 Point 1 to 4
)
The free area of the hard disk partition will be filled with RANDOM NUMBERS. And the selected option will be started!
(Image-1) Clean the free space and put the PC in standby mode!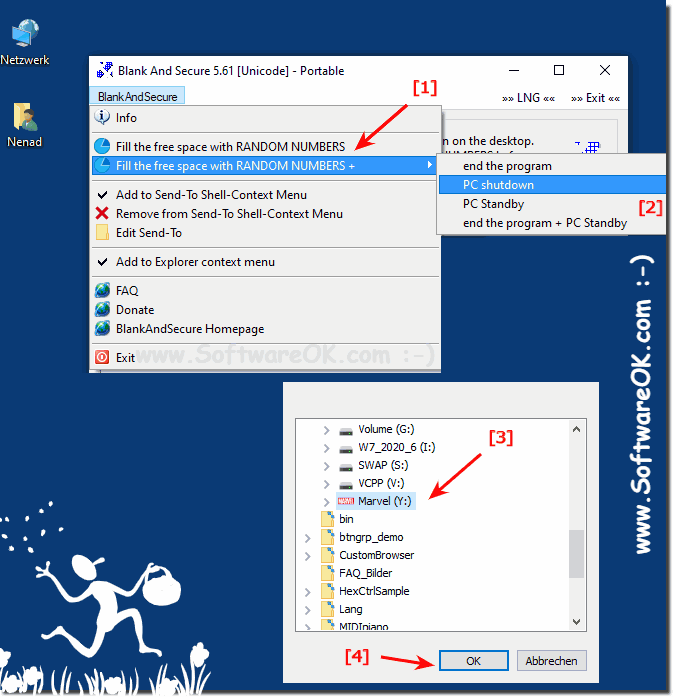 Info:
It is very useful and beneficial to use this program to safely erase memory cards as an effective sprue-blur tool, it has been tested on all MS OS and successfully

verified

.

It's easy to obfuscate delete tracks on your memory card to ensure privacy, this program for secure memory card deletion is also not interesting whether it's a Windows desktop PC, mobile tablet PC, Surface Pro / Go, or even one Server operating system is.