The solution is simple to
extend test period in Windows 7

or delay the activation!




If you want to delay the activation when you have not finished setup on the Windows-7 computer. Easy extend the test time to 3 x 30, or 3 x 90 days. Long enough to run the test of Windows 7, 8.1.




Content:



1.) slmgr -rearm on Windows 7!
To extend the trial period, or delay the timer for Windows-7 activation, please run the command prompt in administrative mode! (... see Image-1 Arrow-1)

Then simply enter the command slmgr -rearm, wait a few seconds, and then restart the Windows 7 PC!
(... see Image-1 Arrow-2)

This solution is also for Windows 7: Starter, Home, Professional, Ultimate, Enterprise!

See also:
... Start the Windows 7 cmd.exe in administrator mode!
... Download Windows 7 Starter, Home (Basic Premium), Professional and Win-7 Ultimate!
... automatic login without password entering on Windows 7!



(Image-1) Extend test period for all Windows 7 OS e.g. delay activation!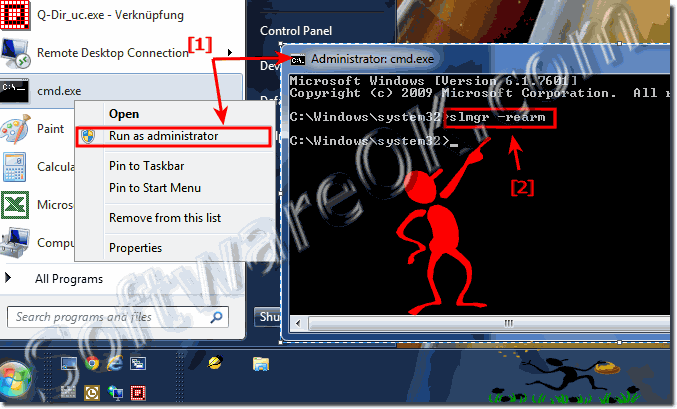 2.) slmgr -rearm on Windows 8.1!
(Image-2) Extend test period in Windows 8.1 slmgr -rearm!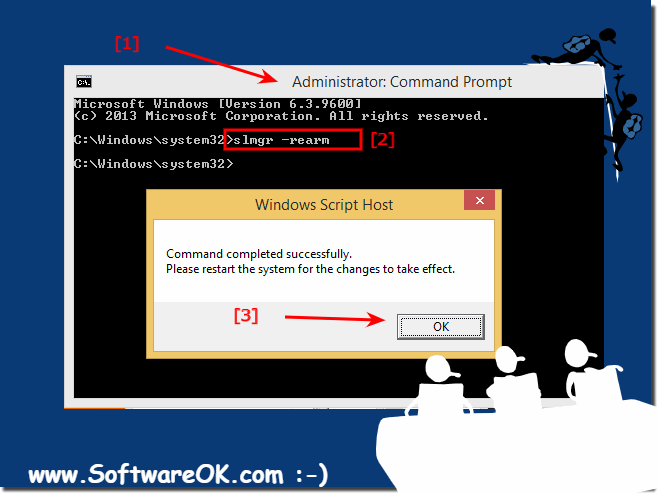 FAQ 85: Updated on: 2 June 2022 19:17