It is quite easy to restore the list view font size in Windows to standard under Windows 11 and 10, why not!
This is a bug on 1 of a thousand computers please use the
>Registry Script<
if necessary!
1. Please Start the free tool 
DesktopOK
!
2. Click
Tools
Menu and
Windows-Metric
 (
... see Image-1 Point 1 and 2
)! 
3. Click Button 
Default
and the option  
Reset Font: Icons
  (
... see Image-2 Point 1
)
Or use the
>Registry Script<
  ►►►► 
. .. /Download/WindowMetrics_Windows10.zip

At Problems:

Easy switch in Windows to another Windows Theme and the back to old Theme, this will also reset the System defaults.


(Image-1) Restore Windows List-View Font Size in Windows!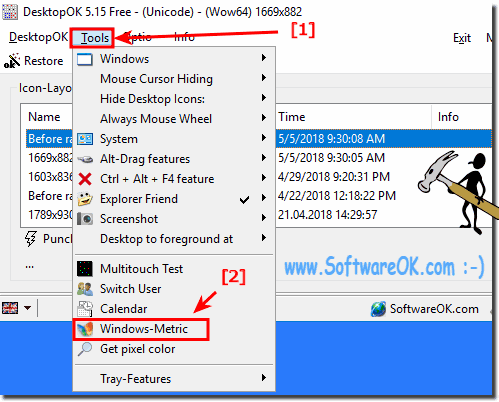 Please use 
... always the latest version of DesktopOK
!    
(Image-2) In Windows-Metric Default Reset Font: Icons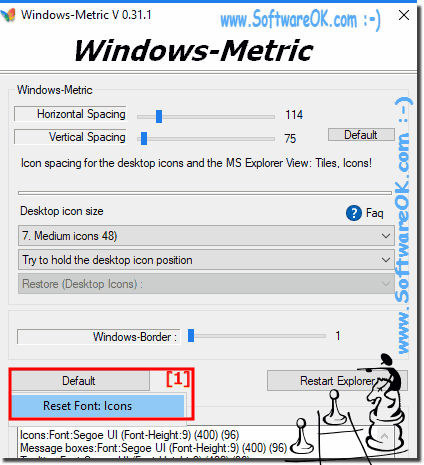 The Windows Metric in DesktopOK is a very nice Windows Tool and will be further developed because in Windows 10,  the new Win-OS is completely lost in System Settings, you can not change the font, or change other system metrics. Currently, you can only change the desktop Symbol Spacing and the Symbol size, in the future then all other stuff, like in old windows desktop OS.   
For example the Windows Metrics In old Windows 7 you could access it through Advanced Appearance Settings in the  Appearance and the Window Color panel. You can use this tool, in old Windows 7 and earlier, you can here customize and / or change the the width of icon / symbol spacing, windows borders and other system settings settings.