For many users is the Quad-Explorer top address bar in all Windows a good solution to the 4 address bars in Explorer Views !
In each version of Windows, you can select different types of address bar via the
main menu in the Quad Explorer
and use it differently than in the
standard file explorer
, I think everyone should be able to operate his address bar in different ways or even
start programs
and even access websites, regardless whether it's a Windows desktop, tablet, Surface Pro / Go, or even a server OS. 
1. Start the Quad Explorer
2. go to the Extra menu
3. activate the upper address bar  
(Image-1) Activate the Quad-Explorer top address bar for Windows!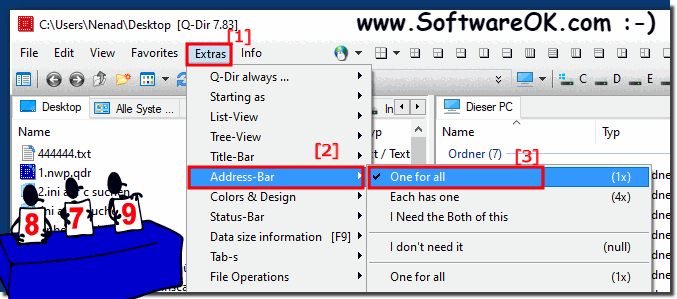 The address bar serves several useful tasks.
On the one hand, one can immediately recognize the path or the address of the current folder via the address bar.
In addition, you can use the address bar to navigate through the folder tree / tree.
You can either use the buttons in the address bar or enter the address directly or by editing the path in the address bar
.