You can also quickly check system resources and start the MS native RAM memory diagnostic tool.
Info:
Are not so nice and elegant as 
QuickMemoryTestOK
 , but why not just start and compare what comes out so, you get a second opinion so synonymous with the doctor in herniated discs, why not synonymous with the memory incident, right?
(Image-1) Access to essential memory and system functions under Windows!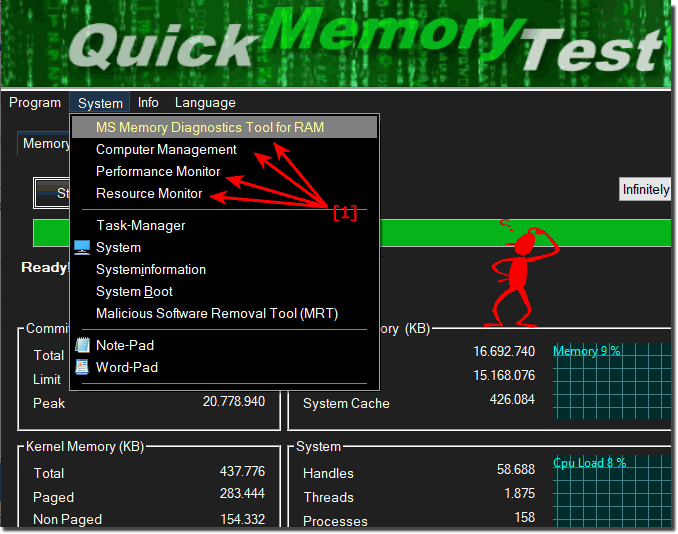 This Mem Test for Windows finds faulty memory and at startup please close all running programs before starting the scan. Because the check can only take place in the unused area of ​​the RAM, which gets smaller by every running program. Whether the whole unused area is checked or only a certain size is up to the user. The check runs after the start until the stop button is clicked, whereby the progress of the test and the number of errors found are displayed in the status line. The freeware can be used without installation and as portable software from the USB stick.

Info:
Many are desperate with the list of known issues with the permanent Windows Update in 2019 provided by Microsoft.
Unlike previous Windows 10 updates, Microsoft released a list of current Windows 10 issues from May 2019 and details of how to fix them.
Memory and RAM issues are not listed in this list.
Make sure that you check the Web page to see if the problem you are seeing is known to Microsoft and what steps you need to take to correct the problem.