It is easy with QTP to shift  the @ character to key A, understandably the Q has little to do with the @ character!
1.) The divert @ sign on the [A] key!
Simply insert the @ character into the 
clipboard
using
QuickTextPaste
!
(
... see picture-1 point 1
)
(Picture-1) The AT sign on the A key under Windows all OS!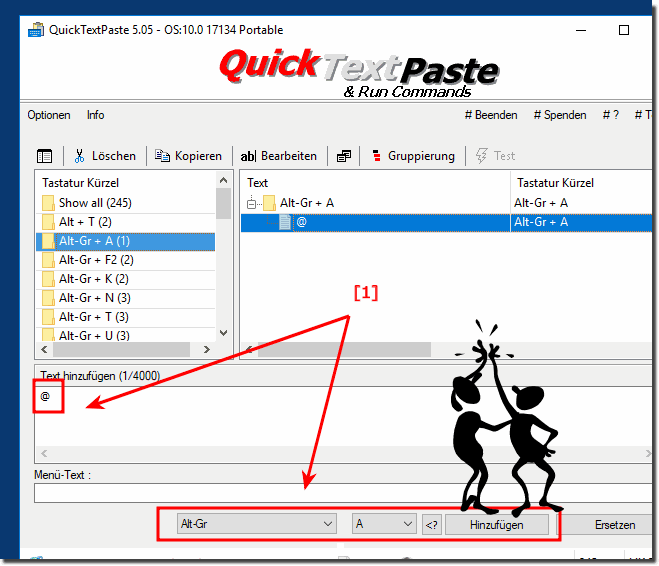 This At button [A] screenshot has been made on Windows 10, as you can see above under Windows 10 shot screenshot, you can use this @ redirection example as a solution, however, easily and without further hesitation to redirect the @ sign on former and older versions of Microsoft's Windows operating systems. No matter whether the @ sign is to be redirected to a Windows desktop home PC, tablet, Surface Pro / Go, or even a server operating system.

2.) Simple example for importing via clipboard!
Here's a simple example that you can 
... paste directly into the clipboard using QTP
!   
[list_text]
text_000 = Alt-Gr + A = @
[list_label]
text_000 =
[list_order]
text_000 = 0
Info:
Info:
It is really very useful and useful to use this redirection of the @ sign even though this @sign redirection is a simple, yet effective tool to have the @ on key A, as many think when it is on Q, it does not promote dissotiation. In order to use this @ solution, there is no need for expertise in emailing, whether in the new MS Windows OS, or on any of the following operating systems: Windows 11, 10 Pro, Enterprise, Home, Windows 8.1, Windows 8, Windows-Server 2019, 2016, 2012, Windows 7 Basic, Professional, Starter, Ultimate it has been tested and successfully
verified
at all  .