Setting window transparency under MS Windows is child's play for you and that for all APPs and desktop programs! 

More and more old programs that made the window transparency available no longer master this task because they are no longer maintained or developed and a lot has changed under Windows 10! However, you do not have to do without this seemingly pointless, but still helpful function! 


From version 6.61 this can be done very easily using the DOK  Windows Tools
1. Start your ►►
DesktopOK for MS Windows 
as always 
2. Activate the 
"Alt + R mouse title bar"
Now you can access it via the title bar + Alt + R mouse to open windows:
a. "Always in the foreground" can be seen 
b. Set transparency
c. or minimize the To-Tray in the information area of ​​the taskbar
d. Open program path 
<< New in 6.71  
(
... see Image-1 Point 1 to 5
)
(Image-1) Make all windows transparent under MS Windows OS!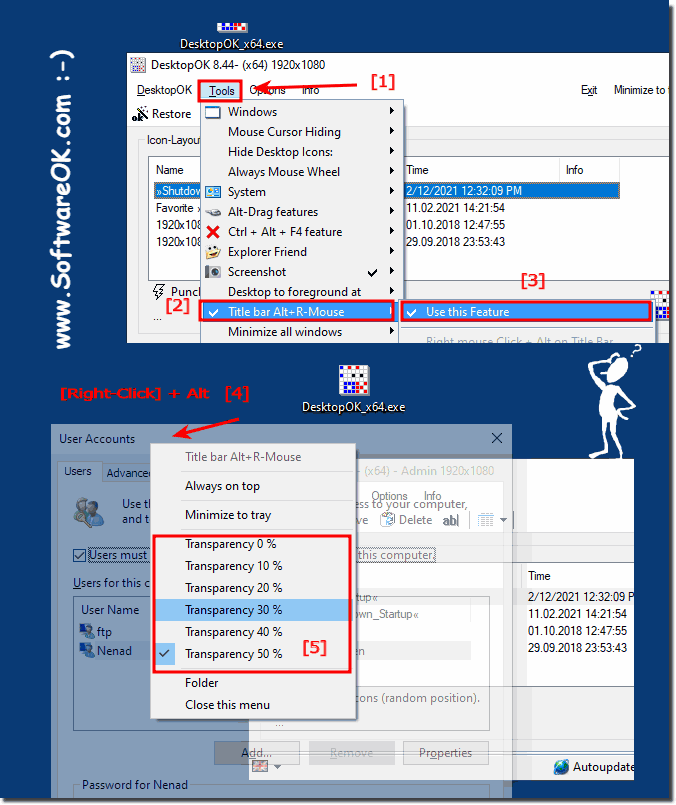 Info:

Sometimes you just want an open APP or a desktop program to be displayed on top of all other Windows APPs and windows for various reasons. This can be useful for monitoring a specific APP, watching a movie while you work, or placing the audio player over all windows. Windows 10,8.1, ... does not offer the possibility to place a window on top of other windows.